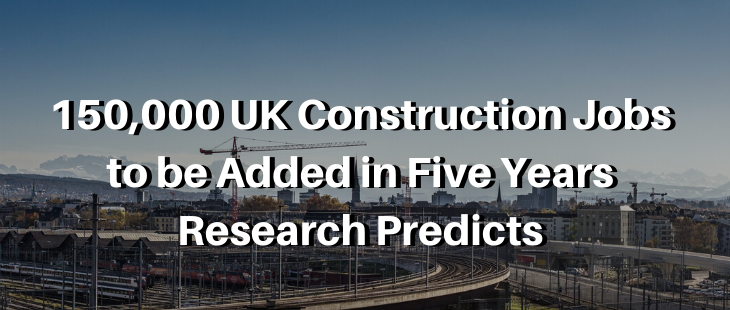 Posted by Fawkes and Reece
On 26th February 2018
According to a new report from the Construction Industry Training Board (CITB), the average output in construction is set to grow 1.3 per cent annually, creating 158,000 construction jobs over the next five years.
That's despite the recent multi-million-pound collapse of facilities management and construction company Carillion and the on-going uncertainty surrounding the Brexit negotiations.
Construction Industry Is Bullet-Proof
It seems that the construction industry as a whole is bullet-proof, with the CITB predicting a huge surge in the number of new homes being built. That alone will create 15,000 more carpenter jobs. But the boom is expected to impact on other skilled and unskilled trades too, with a rise of 9,350 construction jobs forecast to be created to meet the demand.
Housing output will drive the 1.3% surge in growth, and there's good news for management, too: the trend is towards a growth in managerial roles to improve productivity across the sector, as construction workers are believed to be inefficient.
Commercial Decline
The picture isn't completely rosy, however. While housing is expected to boom, the commercial construction sector is expected to stagnate over the same five-year period. This decline is expected as a result of investors holding back amid the continued uncertainty surrounding the UK's exit from the EU.
But there's good news for employment in the sector, with the CITB predicting a growth in employment for the fourth consecutive year. In fact, they envisage growth figures of 0.5% across the construction sector until 2022, adding some 2.77 million jobs in construction – just slightly below the peak figures of 2008.
Growth in Opportunity
Steve Radley, Director of Policy at the CITB, is optimistic despite the fact that growth is down on 2017. He sees a rebalancing across the construction industry with infrastructure and housing showing significant expansion and a growth in employment opportunities both in the trades and management. The most significant growth will be 7.8% for professionals and 5.6% for managers and supervisors.
With employment expected to hit the heady heights of 2008 by 2022, the CITB acknowledges that the sector faces a massive challenge when it comes to recruitment and training – particularly in the face of Brexit.
Vital Investment
So while the construction industry may have weathered its recent storms, it's still vital that investment is made now in the skills and training that will shape the future of the industry.
Overall the picture remains mixed, with growth in Scotland predicted to remain flat but a rise of 4.6 per cent in Wales. As the commercial sector slackens, growth in Northern Ireland has fallen back from last year's forecast of 1.6% to just 0.5% with the entire industry experiencing stagnation in January. In the light of that slump, the predicted rise in construction jobs is very welcome news indeed.