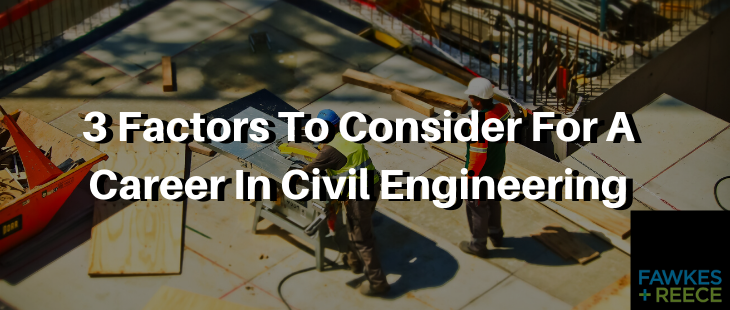 Posted by Fawkes and Reece
On 7th October 2016
At this time of year, many students are embarking on their civil engineering degree. Others have completed those studies and are looking for their first civil engineering jobs. Whichever of these situations you find yourself in, there are three important factors that you should be considering. Employers will be looking for candidates who have considered the following three issues and made their decisions.
1. Design or On-Site?
One way of dividing civil engineers is by considering them as design or site specialists. Civil engineering recruitment specialists will be looking for consultants and contractors – but you need to decide which you wish to be.
Consultants are design specialists. They will be involved with a project from its inception, working closely with the client and often project-managing on the client's behalf. They tend to be based in the office and will deal with design-related issues once building begins.
Contractors tend to work on-site, building the actual project once the design is complete. They manage teams and oversee the implementation of the designs. They may sub-contract to specialists for some of the work, but on the whole they are responsible for the building of the project.
2. Which Industry?
This is an important consideration, as civil engineers work in a really wide variety of fields and industries, all of which require different specialisations and aptitudes. You might want to work in airport construction or development. You could work on bridges, road construction, transport (including highways and rail) or tunnelling. You might want to work on public or commercial buildings. Equally, you might want to work in the marine or coastal areas, developing offshore energy, flood defences or ports.
There are positions for civil engineers in the energy and power industries and in the water and public health sectors. Some civil engineers become environmental consultants, examining the impact that a proposed project could have on the environment.
3. Which Modules Should You Study?
If you are still studying, then you should consider the modules that you choose and your final-year project very carefully, as they will influence an employer's decision to hire you. If you are thinking of going into the building sector, then studying thermals, acoustics or ecology could be a wise choice. Some employers will be looking for very specific modules, whereas others will be looking for a candidate who has shown at least an interest in their industry or specialisation. If you apply to join a field which is very different from the modules you have studied, you need to explain why you've made that decision as early as you can in the hiring process – preferably on your application form.
So whether you are beginning your studies, choosing your final-year project or applying for your first position, you need to have considered the choices available to you and made your decision. Prospective employers and civil engineering recruitment firms will expect their candidates to know where they want to work and which industry they want to work. And they need to have studied modules which are relevant and useful.
Your Next Steps
Looking for your next career in civil engineering? Fawkes & Reece have a number of positions available, so why not start your job search today.