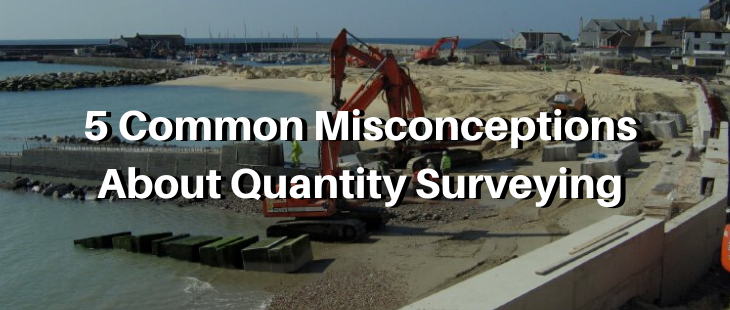 Posted by Fawkes and Reece
On 22nd December 2017
Building fundamentally consists of moving materials out from a site, and moving other materials in. As the name suggests, quantity surveying is required in order to assess these quantities and the associated costs. But this leads to some misconceptions as to the role of a quantity surveyor.
The job is much more than measuring
Measuring dimensions and tonnage is merely one technique that helps the surveyor address a broader objective in managing the costs and contracts that underpin the entire construction project. The profitability of construction firms is affected to a significant degree by materials movements. Interests often compete, so logistics, timing, planning, negotiation and diplomacy are all required in order to keep everything moving into the required position at the right time and at the right cost.
The maths isn't rocket science
Although measuring quantities is certainly a part of quantity surveying, the mathematical demands are fairly straightforward. In most cases, quantities are already reasonably well known in advance and unless a dispute between two contractors arises over costs and requires arbitration, only moderate precision is required. Formulas to assess weights and volumes are soon mastered.
The surveyor will also use some maths when presenting figures and cost estimations. But again, although they need to be proficient with numbers, the mathematics is not particularly demanding. Care, circumspection, thoroughness and information presentation are more important qualities.
Lots of paperwork
The job involves familiarity with contracts, drawings and statutory requirements but there is also time spent out on site. Surveyors will get to know many of the contractors both onsite and off, assimilating their needs and concerns from both a practical and a contractual perspective. It's a balance many people enjoy.
The reason for all that paperwork is wholly practical, relating it to the work in progress and understanding how it affects all involved so that all parties can work together to reach the desired objective.
Isn't it boring?
In addition to the variety associated with working both in and out of the office, the surveyor's job involves overseeing the operations of a wide variety of contractors involved in a project. In a career spanning decades, the projects themselves are likely to be reasonably diverse, in no small part because the surveyor's skills are transferable.
There is plenty of diplomacy and negotiation to keep you on your toes. The surveyor is routinely called upon to acts as an independent arbiter between different contractors, logistics firms and waste recycling companies, or to check on the cost estimates put forward by design and management teams, who sometimes have vested interests of their own. Quantity surveying requires initiative and creativity in finding solutions that are acceptable to all parties. When you understand their role in keeping the entire project moving forward, the inherent job satisfaction becomes easy to understand.
Overlooked but not unimportant
So, in addition to quantitative measurements and the logistics of moving materials, the role involves cost planning and control, value management and tendering. Quantity surveying keeps all the other operations involved in construction projects flowing and a seasoned surveyor will have forged relationships with senior people across the industry. It is little wonder that quantity surveyor jobs can open the door to senior project management positions.