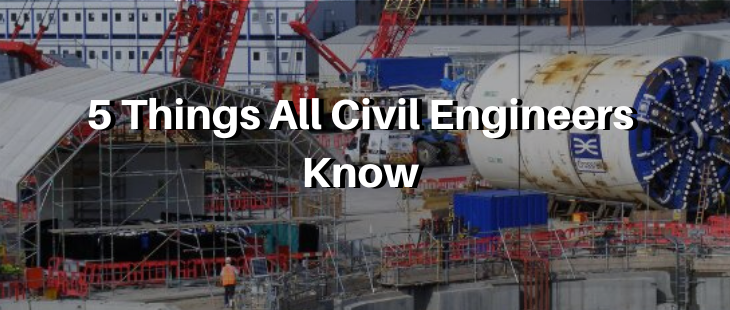 Posted by Fawkes and Reece
On 13th April 2018
As an expert in civil engineering you'll come to know the inner workings of important civil engineering principles. You'll become a master in all things cement, knowing your sulphate resisting from your high alumina, and you'll cringe when someone refers to cement as concrete or vice versa. Below is a list of five things any civil engineer should know.
Concrete Is Never Dry
Not only will you know all the different types of concrete and know how dry it is at various times in its curing cycle, you'll also know that it actually continues to dry throughout its whole lifetime. And you'll also know the reason why. When water is added to cement, it reacts with it, becoming part of the concrete. The chemical reaction that takes place continues for years, during which time the water remains binding to the concrete as it continues to cure and harden over time. The water never actually leaves the concrete, meaning it never dries out entirely and therefore cannot reabsorb water later on to become a soggy mess.
Every Kind of Truss and What Makes Them Different
You should be a civil engineering whizz when it comes to the hundreds of different forms of truss that exist. Not only that, but you'll know when is best to use a certain truss and be an expert at calculating their loading capabilities. Make sure you know your vault truss from your scissor truss before you apply for one of those civil engineering jobs you had in mind.
Why the Leaning Tower of Pisa Hasn't Fallen Down Yet
All civil engineers should know this one. Although leaning since its completion in the 12th century, the famous tower still hasn't fallen, despite reaching an incline of 5.5 degrees at its very worst during the 1980s. Since then civil engineering experts have kept the tower from collapsing by placing huge weights on the north side of the tower, which have pulled it in the opposite direction of its lean. They say that with this action it is likely the tower will last another 800 years without risk of falling.
What a Cone Depression Is
When too much water is pumped out the ground at too quick a rate for it to be replaced, the water table drops, leaving the well dry. The water table around the well slopes, forming a cone-like shape. The best way to describe it is to describe what happens when you drink a milkshake. When you suck through a straw, there is always dimple formed around the straw. This is exactly how a cone of depression is formed.
Where Pipes Lead to and Where Your Water Comes From
This one might sound obvious, but as a civil engineering expert you'll undoubtedly have an obsession with figuring out exactly where the water in a building flows to and where it enters. After all, you are trained to design infrastructure that is hidden from view, so it's only natural that you'd become fascinated by this kind of thing.