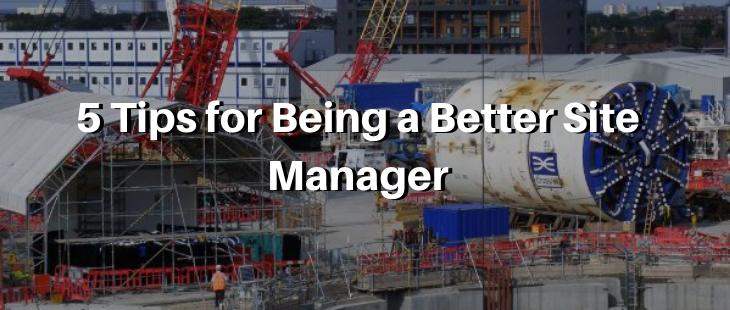 Posted by Fawkes and Reece
On 10th August 2017
Managing a construction site effectively can be a tough job unlike any other project management role. You'll need an extensive knowledge of the construction industry and the ability to keep track of everything from building regulations to the budget. You'll need to keep a close eye on everything and be sure of your people management skills. The following five strategies are crucial to your success as a site manager.
1. Map Out a Schedule
Mapping out an appropriate and effective schedule is crucial to success. You'll need to be on top of multiple deadlines to manage the site effectively, which could mean creating to-do lists and calendars so tasks stay on track. Depending on your management style, the solutions you use can be as low- or as high-tech as you like. One useful tip is to have a laser-tight focus on areas of the job that can be finished quickly and to a high standard and allow some wiggle room for the more problematic parts of the build. The worst-case scenario is that you'll finish ahead of your schedule.
2. Keep Your Budget in Check
From making the successful bid to the final fit, the site manager is responsible for managing a budget that often sees interplay between a range of financial sources. If you have a financial department, you'll need to establish a close working relationship – otherwise you'll need sight of every invoice and all costs related to the project. This is one area where good software that can keep track of the hundreds of expenses involved in a construction site is invaluable. Bringing in your projects on schedule and under budget will build your reputation as an excellent site manager.
3. Make Good Hiring Decisions
A site runs effectively and efficiently when you hire the right blend of people. Due diligence and background checks are invaluable to ensure the trustworthiness of potential employees, and personal recommendations or testimonials on social media can help you to have a good idea of quality of work and the ability to stick to schedules and budgets. Invite bids from subcontractors that you can scrutinise to ensure everyone you employ is happy working for the team.
4. Create a Communication Flow
Establishing a strong two-way communication flow that is clear and transparent is probably the most essential part of a successful project. Open clear lines of communication with your staff, and hold regular brainstorming sessions and project update meetings so that the status of the project is transparent for all stakeholders. A good manager will have an open-door policy so that they're always approachable and accessible and can deal with any issues before they become full-blown problems.
5. Be Involved
Don't be tempted to take a back seat once the project is up and running. A good site manager is never found sitting at their desk. They're out on site, familiarising themselves with every part of the build and every worker on site. In an industry where the pace of change can be so rapid, it pays to keep up to speed with current work practices and be on the ground to effectively troubleshoot any issues there and then. Effective site management is hands on, so don't sit at your desk – get out and manage!