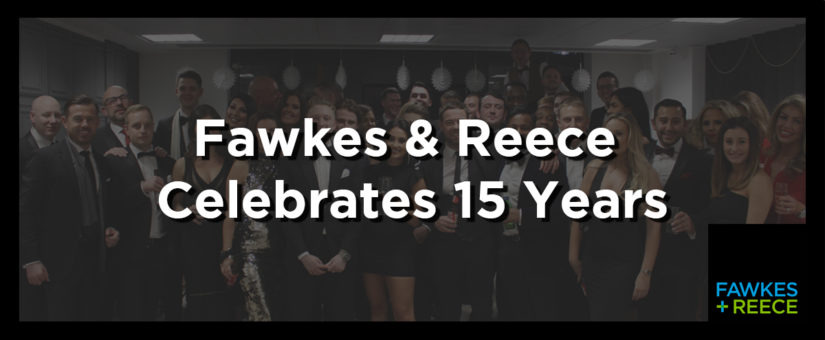 Posted by Fawkes and Reece
On 16th January 2017
Here at Fawkes & Reece, we were proud to have recently celebrated our 15 year anniversary. Over that time we have grown from one member of staff to a workforce of over 60. This growth is the result of ambition, hard work and working closely with our professional clients and candidates. Our business has changed a great deal from the days when we first started and during this time the same can be said for the construction industry. The size and scale of the construction industry in the UK is some £100bn per annum, which is far ahead of where it was when we started (circa £59bn) and today there are around 200,000 more people employed Nationwide. Even with the challenges from a tough recession to the constantly changing world around us, the industry has been transformed by continual innovation and the adoption of technology. One thing that hasn't changed and probably never will is that success is achieved by companies having the right type of people and a motivated team.
Advances in technology, design, detail and the speed at which something can be achieved haven't reduced the influence or the role of people within construction but has increased specialisation. Today a management team on most projects above a certain size or value has a designated person employed for almost every specific function. This has made the recruitment process more complex. Prior to the internet where jobs and people could be found via an advertisement in the back of a trade journal, today the shift online and the increased visibility of jobs further highlights the importance of employers being proactive in their staff attraction, development and retention.
The use of the internet and access to technology has made the world a smaller place. For the construction and built environment sectors, the internet offers greater awareness of what's happening both globally and at home. This has driven innovation in materials, efficiency, design and widened the scope for creativity with inspiration being just a click away. Whilst the industry has made massive steps forward technically, we have also seen it transform completely in the way it approaches equality and diversity. The industry continues to question its progress and it should continue to do so, but it has never been as inclusive nor have companies been as responsible as they are today.
There is still a shortage of people leaving education and choosing the industry as their vocation which doesn't help to combat the skills shortage of 2017 or in the immediate years ahead. This is surprising when we consider how exciting, varied, challenging and rewarding the industry can be. The UK construction scene and the companies we work with all endeavour to offer great career paths to people they employ.
Fifteen years ago in London and the South East a site manager would earn around £28,000 – £32,000 per annum, quantity surveyors and planners around £34,000 – £38,000 per year and a contracts manager around £40,000 – £43,000. In the last year alone we have seen some senior planners and estimators secure packages of up to and around £100,000 per annum. Quantity surveyors, site managers and alike are earning double what they did 15 years ago, which demonstrates that the industry sits above the national average and many other industries. What is more noticeable is that qualified individuals no longer have to wait as long to achieve respectable levels of pay and graduates with 4-5 years' experience can, in some roles, earn over £50,000 per annum.
The pace and breadth of change over the last 15 years has been remarkable and despite continuous advances of technology and communication people will always remain at the core of the industry. Personalities still play the same key part in any business; a sense of urgency, eye for detail, commitment and good work ethic remain the attributes any employer looks for, whilst businesses will always rely on its people to win work, motivate and manage teams. How reassuring it is that today even with the temptation for people to send an email or text, in all aspects of the construction industry and built environment there's no substitute for meeting people face-to-face, shaking hands or picking up the phone and speaking to someone.
So whilst the industry continues to evolve at the rate it has done so over the last 15 years maybe in the years ahead some things will remain unchanged.