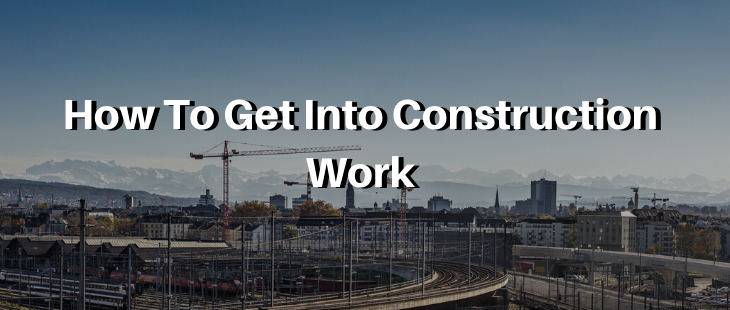 Posted by Fawkes and Reece
On 13th March 2018
There are various ways into construction – the industry is filled with all types of people. If you're interested in construction work, it can be difficult to know where to start as there are so many routes in, but this is truly a career for everyone with a way into work that's right for you.
Get Qualified
If you're thinking of studying building or construction, keep your options open with a focus on design and technology and business studies, both of which are useful complementary studies alongside the core competencies of English, Maths and Science. These will form the entry requirement for any construction career or apprenticeship.
Before you apply for a course, think hard about the kind of career you want to pursue and the learning style you prefer. You can opt for coursework-based learning or to test your knowledge through exams. Or you can opt to combine construction work with study so you learn practically on the job. If you prefer this style of learning, you might like to consider an apprenticeship.
Apprenticeships and Traineeships
This is an exciting way to combine training with a construction job. You'll perform a particular role with the expectation that your employers will help you to gain experience and qualifications to meet agreed standards.
If the idea of an apprenticeship appeals to you, then you'll need to define the construction career you're interested in. That might be one of the many craft- or skills- based hands-on construction jobs in the trades or a planning, supervisory or technical role.
If you are aged 16-24 and you're qualified below level 3 or unemployed and set on a career in construction, then a traineeship may offer you the skillsand experience you need to move into an apprenticeship or a construction job.
A Career for any Age
Construction isn't just for young people, however. It's never too late to transfer your skills and professional experience into a brand new career. Even if your qualifications and experience are in an unrelated industry, you may be able to gain work experience or take a conversion course. In fact, you'd be surprised at how many of your skills are useful in the construction environment. For example, the teamwork and discipline of the Armed Forces would be a great fit with a role in the construction industry, and ex-officers can offer useful leadership skills which are useful for a management role.
Tips on Applying for Construction Jobs
– The perfect CV is no longer than two sides of A4 and uses a simple san serif font. Always include contact details, a personal statement that summarises your achievements, your education, experience and references.
– An outstanding cover letter sells your experience and personal qualities and how they're a great fit for the job. Do your research and check and double-check any written information for spelling and grammar.
– An excellent application form gives the organisation concrete examples of your abilities in specific areas and demonstrates the specific experiences and qualities that make you the right person for the job.
– Flawless phone calls and interviews depend on preparation and planning. Sound confident and look smart and you're on your way to your first job in construction work.