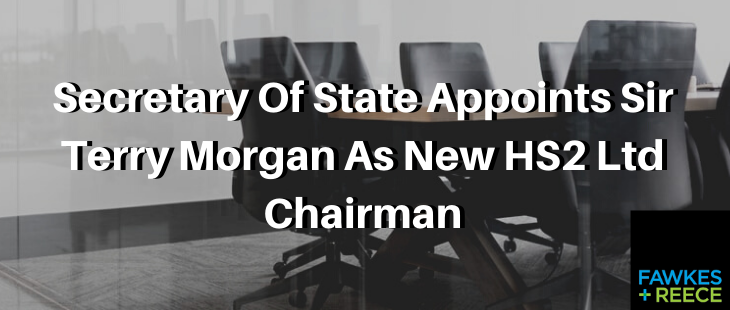 Posted by Fawkes and Reece
On 18th July 2018
Sir Terry Morgan will be taking over as the Chairman of HS2 Ltd, the company in charge of delivering one of the biggest civil engineering projects undertaken in many years. He's certainly well qualified for the role, with an MSc in Engineering Production and Management and fellowships from the Institution of Engineering and Technology, Royal Academy and Institution of Civil Engineers.
He brings a lot of practical experience to the role too. He's chaired Crossrail since 2009 and was Chief Executive of Tube Lines, a company that had the contract for upgrading and maintaining the Northern, Piccadilly and Jubilee lines. He's also held top-tier roles at Rover and BAE systems.
The Transport Minister, Chris Grayling, said that Sir Terry's appointment would ensure world-class leadership of the project, one of Europe's most significant civil engineering projects. Mr. Grayling thanked Sir David Higgins, the retiring chairman, for making the case for the project in terms of economic transformation and for leading the project with vision and determination.
Sir Terry Morgan also commented, saying that it was a privilege to take up the role, which was crucial to the project. He reminded people of the aim of the work – better connections for 300,000 travellers which would drive greater productivity and prosperity across the UK, unlocking opportunities for regeneration and growth. He was looking forward to meeting his team and helping the project go from strength to strength.
Comments from the Outgoing Chairman
The previous Chairman, Sir David Higgins said it had been a privilege to watch the project grow from conception to construction. He strongly supported Sir Terry's appointment and said he was the person best placed to take the project to the next level.
Sir David pointed out that business leaders and local authorities in the North and Midlands are aligned with the project's aims, and that it's now become an integral part of their future plans. He was sure that Sir Terry would be able to deliver the ambitious agenda of rebalancing the national economy.
The Project Is Stepping Up a Gear
As one of Europe's largest civil engineering initiatives, the project will need to strengthen its executive board as it progresses. One sign that it's gearing up for the implementation phase is the intention to appoint a Chief Financial Officer and Chief Operating Officer.
Mark Thurston is the Chief Executive of HS2 Ltd, and he confirmed that the team was now moving up a gear and progressing from the design stage to the construction phase. The project has already engaged 2,300 subcontractors of various sizes in locations across the country. He welcomed Sir Terry's appointment because he would be able to guide the next phase.
Civil engineering projects as large and high profile as this one are unusual, and the government is clearly keen to ensure strong leadership at the highest level.