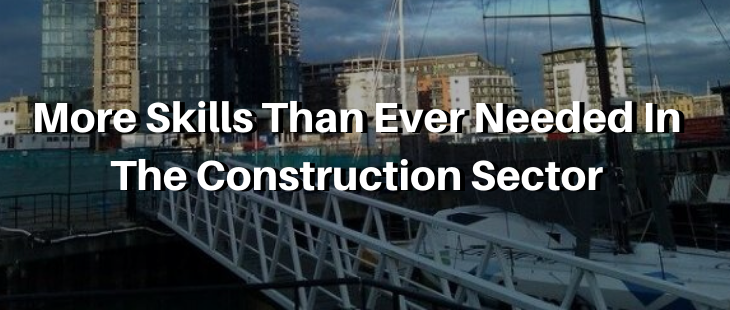 Posted by Fawkes and Reece
On 14th March 2017
Respected consultant Arcadis has undertaken research which indicates that the construction industry needs to recruit more than 400,000 new workers every year until 2021 in order to properly ensure that there are enough skilled workers to successfully manage the volume of work that is expected. To put that into perspective, the industry needs to recruit one new worker every 77 seconds.
An Astonishing Skills Gulf
The Director of Workforce Planning for Arcadis, James Bryce, has said that this is not simply a gap in skills: it's a gulf. Employment within the construction industry has dropped by 15% since 2008, and under-investment within the sector has resulted in a huge shortage of skilled workers which is negatively impacting the UK's overall levels of productivity.
Building infrastructure and homes are vital if the UK wants to maintain its position within the global economy, but without enough skilled workers to fill the numbers of construction jobs required to deliver those projects, the UK is undoubtedly going to struggle to remain competitive.
Overcoming a Shortfall in Skills
Although undoubtedly an important part of any long-term future recruitment strategy, automation, technology and education simply aren't enough to plug the gap at this stage. The construction industry must become more efficient as well as focus on attracting individuals currently working within other industries, including pharmaceuticals and technology.
The government also has a large role to play in securing construction jobs. They have announced a number of housing and infrastructure projects, and so they also have a responsibility to help to guarantee the UK has enough skilled workers to successfully see those projects through to completion. Securing the rights of EU workers who are currently working within the British construction industry as part of any Brexit deal is vital, as well as moving to simplify the visa system. There is also the threat of changes in taxation, which could hit both workers and employers within construction particularly hard.
If the government fails to do this, successful completion of projects could be undermined, which could result in negative implications for the economy and limit further investment in a construction industry that really needs it.
Skills Currently in Demand
Jobs in construction are plentiful, but as Nick Ogden, a respected lawyer, has explained, the number of workers currently entering the industry simply cannot keep up with the levels of demand. The need for joiners and carpenters is huge, and as the housebuilding sector expands, a vast increase in skilled bricklayers, electricians and plumbers is also needed to meet the UK's housing requirements. Described as the 'Minted' workforce, as they are currently the 'Most in Need Trades', workers with these skills could easily see their wages double before the next generation begin entering the workforce.
As well as housebuilding, keeping up with important infrastructure improvements is vital to the UK economy. More than 7,000 jobs in civil engineering also need to be filled, alongside the need for more than 20,000 construction directors and over 7,000 quantity surveyors.
The Brexit Effect
It is important to note that these figures don't take Brexit into account. Brexit is ultimately expected to intensify the labour deficiency even further, but if a so-called 'hard Brexit' takes place, more than 200,000 workers will be needed to replace those EU nationals who would be leaving the UK's construction industry following the implementation of the points-based immigration method that is currently used for non-EU nationals.