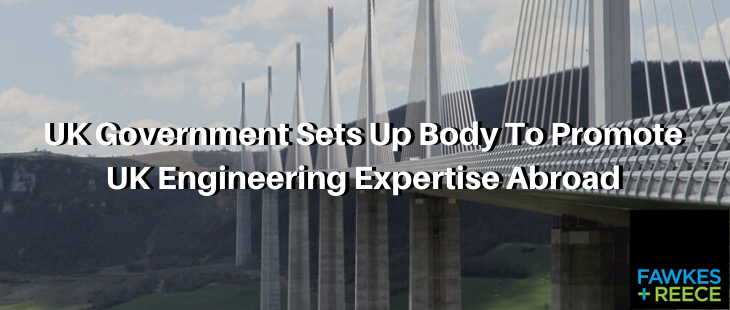 Posted by Fawkes and Reece
On 13th June 2018
UK Government To Promote UK Engineering Expertise Abroad
IE:UK is the title of a new body that has been established to promote UK engineering expertise internationally. It's a high-powered group, whose members include the heads of government trade bodies; engineering firms which take on major civil engineering jobs; and infrastructure project partners.
Targeting overseas civil engineering projects
The group is currently focusing on promoting British expertise in civil engineering jobs involving underground transport systems, high speed rail, aviation and Building Information Modelling (BIM). One overseas project being targeted is the Singapore to Malaysia high speed rail line.
The success of Crossrail, which is nearly complete, is a good selling point, illustrating the ability of British engineering to deliver complex projects and civil engineering jobs. In fact, the expertise developed by engineering firms and partners who had to solve the challenges of the Crossrail project, is already being put to use in the £11bn Sydney Metro project, currently underway in Australia.
The emphasis on BIM, high speed rail and metro systems could lead to more civil engineering jobs for qualified and experienced British engineers.
The idea of the board, is that it can implement a joined-up approach that talks both to foreign governments and to industrial and engineering partners. It has seeding capital to get started, with the hope that it can become self-financing in time.
Government explains initiative
The Government has already set up a website to explain the initiative and the type of approach it will take. There's a clear emphasis on exporting not just engineering expertise, but also some of the successful UK business models, such as the use of partnerships and consortia.
IE:UK also wants to identify UK supply chain gaps and close them, so that the UK provision is fully comprehensive. Civil engineering recruitment for projects abroad is already well established in the UK, and the new body will no doubt be pointing out to clients overseas that the projects can be fully resourced.
To begin with, the new initiative is going to focus on those markets where both funding, and the ability to procure major projects, are already in place. Principally, that's going to be the US, Australia and Canada to start with. However, the aim is to work with partners and governments in other countries who are developing these systems for procuring major infrastructure projects. There's a great deal of expertise around governance, relationships with suppliers and the delivery model with which UK companies are familiar and which can be brought to bear in overseas projects.
It's clear that civil engineering jobs will increasingly involve international projects. The UK's recent success at infrastructure projects reflects the success of its engineers in delivering complex, cutting-edge projects in urban areas. There's certainly a bright future for qualified civil engineers who want to get the best jobs in civil engineering and who are happy to travel to work on overseas projects.