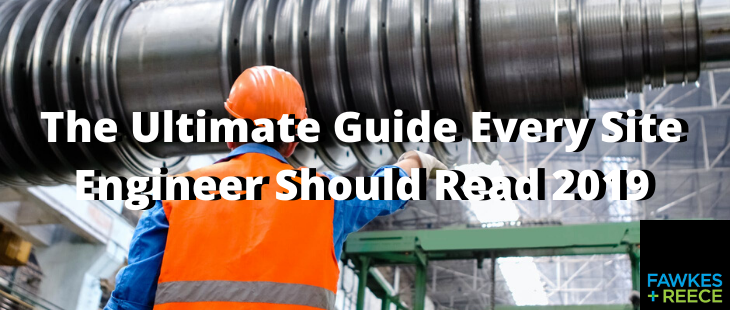 Posted by Fawkes and Reece
On 18th February 2019
Introduction
There's arguably never been a better time to get into site engineering and become a site engineer.
With fantastic prospects and work fulfilment possible, becoming a site engineer is a fantastic career choice to pursue.
But what exactly does a site engineer do? And how do you become one?
View site engineering job vacancies.
Well hold onto your hard hat as we take a deep dive into all things site engineering to shed some light on this popular career path which can take you all over the world working on small to multinational projects.
Contents
Chapter 1 – How Site Engineers Influence The World We Live In
What does a site engineer do
Chapter 2 – The Unique Skills and Traits Of Great Site Engineers
Skills and traits to be a site engineer
Chapter 3 – How To Kickstart Your Site Engineering Career
How to become a site engineer
Chapter 4 – Real Talk: How Much You Can Earn (Plus What Hours Will You Work)
How much does a site engineer earn (and what hours do they work)
Chapter 5 – How Your Career Will Progress (Plus Ongoing Professional Development to Stand Out)
What is the career progression and professional development of a site engineer
Chapter 6 – These Tips Will Set You Apart From Other Budding Site Engineers
Top tips for being a good site engineer
Chapter 7 – Make Sure You Know These Things If You're A Site Engineer
Things every site engineer should know
Chapter 8 – Choosing The Right Specialism That Suits Your Goals and Interests
Site engineering specialisms
Chapter 9 – Some Top Engineering Tools You Should Be Using
Site engineering tools
Chapter 10 – Get In Front Of These Employers To Boost Your Chances Of Employment
Site engineering employers and career prospects
Chapter One – How Site Engineers Influence The World We Live In
What exactly does a site engineer do
Fundamentals of site engineering
Site engineers contribute to construction projects in three main ways;
Technical, organisational and supervisory.
Site engineers help to determine the location for infrastructural installations, be it above or below ground. They will then need to apply designs and plans to mark out the site.
Site engineers are also expected to provide input on security, health and safety and the organisation and supervision of both material and human resources.
Where does a site engineer work
As a site engineer you may end up working in a large variety of organisations and for lots of different projects.
Projects can include small scale developments right up to multi-million pound organisations.
You may find yourself working on any number of projects, such as civil, road, rail and marine and many others.
Typically you'll be liaising with a large number of different professions such as:
Architects
Construction managers
Engineers
Planners
Subcontractors
Supervisors
Surveyors
Role and Responsibilities
As a site engineer you'll be based both on site and in an office. Acting as the main technical adviser on a construction site for subcontractors, craftspeople and operatives.
So it's vital that you're confident in your technical knowledge as many people will be reliant upon your expertise and advice.
Another of your main responsibilities will be to set out, level and survey the site. This is an important task which will build the basis for the project.
You will also be asked to check drawings are accurate and calculations for quantities are correct. Along with proofing plans.
An important part of any project is the selection and requisition of the required materials. You will be expected to oversea this process, agreeing prices and making cost effective solutions and proposals.
During a project you will receive design documents from clients and architects, it will be your responsibility to manage these by monitoring and interpreting them.
You'll likely find yourself liaising with many people on a day-to-day basis. Most probably you'll be in communication with consultants, supervisors, quantity surveyors, planners and subcontractors on a regular basis, making sure everything runs smoothly.
As well as liaising with people directly involved in the project you'll have to be in communications with the local authority to make sure the project complies with local construction regulations and by-laws.
Furthermore you will have to be in regular communication with clients as well as their representatives such as engineers, architects and surveyors. It's imperative you have regular meetings with this contingent to update them of the project's progress.
One of your daily responsibilities will be making sure the site is well managed and running smoothly. You'll have to monitor the on site labour force and assess the work of any subcontractors too.
Meeting deadlines will play a massive part in your role. You'll have to work and organise site and plant facilities to ensure work doesn't creep passed agreed deadlines.
On the whole you be will responsible for overseeing quality control as well as health and safety on the project site. Report writing will also be a part of your role and will have to produce them as required.
Finally, you will responsible for resolving any unforeseen technical issues and difficulties as well as any other problems that may occur throughout the project.
Chapter Two – The Unique Skills and Traits Of Great Site Engineers
What skills and traits are needed to be a site engineer
There are a range of different skills you will need to possess should you wish to become a valued site engineer.
As you will spend much of your time communicating and liaising with a variety of different people, from clients to work force and everyone in between you must have decent communication skills, both written and oral. You will need to convey your thoughts clearly and succinctly in meetings or in writing in the form of reports. You must be comfortable talking to a whole host of different people from clients to construction managers and local authorities to architects as well as everyone in between.
As you will be in charge of the entire site and making sure deadlines are stuck to you will have to possess a good level of organisational skills as well as a structured and methodical approach to work which ensures everything is done correctly to a high standard and on time.
You'll likely to be faced with unexpected and unforeseen issues and problems during your role as a site engineer. To overcome these efficiently it's important that you're a strong problem solver with a keen analytical mind that will stop these problems derailing a project for long.
As the person who oversees and monitors the work done on site you will have to have a great eye and attention for detail and accuracy to ensure all work is completed to the necessary standard.
Typically a site engineer will play a key role in material requisition. They'll have to get the best price possible to make sure the project comes in at the correct budget. To do so, a site engineer should have strong negotiation skills that allows them to get the best materials for the best price.
A site engineer will find themselves a member of a wide variety of different teams. To ensure harmonious working and good morale you'll need to be a strong team player who is excellent at getting the best work possible out of all team members.
Like the majority of work in today's society, possessing excellent IT skills is a must. You must be able to use IT solutions efficiently and effectively on a daily basis to get the job done.
Being able to manage projects and be flexible is also paramount. A site engineer oversees the general day to day work on a construction site and advisors the necessary people. To be able to do this effectively you'll need to have a strong project management toolbox and be adaptable and flexible should issues arise.
Ultimately as the person in charge of on site health and safety you will need to have a deep level of understanding of the current building and health and safety legislation and regulations to ensure your site remains compliant at all times.
Finally, as you will be based more often than not on site you will have to have a driving license to ensure you can get there under your own steam.
Chapter 3 – How To Kickstart Your Site Engineering Career
How to become a site engineer
There are a few different routes to becoming a site engineer, though some are more common than others.
Here are those different routes and the qualifications you will have to achieve.
The primary route is through studying a degree at university in an engineering discipline.
You may also start on this career path to become a site engineering by attaining a Higher National Certificate (HNC) or a Higher National Diploma (HND) in a construction or engineering related discipline.
The key here is to pick a degree, HNC or HND which is accredited by a professional body.
If you've already started and are on a non-accredited course, you can still become a site manager but will need to undertake an academic assessment. More on this later.
It's also possible to enter the site engineer profession without a formal qualification by taking up an apprenticeship.
Bachelor's degree in relevant subject
The most common path to becoming a site engineer is by studying a Bachelor's degree at a university.
When selecting degrees you will need to make sure it is in an engineering or construction related field and is accredited by a professional body.
This will allow you to progress your career later.
Degrees you may wish to consider include:
Building Engineering
Building Surveying
Civil Engineering
Construction Studies
Structural Engineering
HNC/HND in construction related or engineering discipline
Similar to a degree, if you study a HNC or HND in a construction or engineering related discipline you will be able to start your career of as a site engineer.
However, also like a degree, you must ensure that your chosen course is accredited by a professional body.
Apprenticeship
If you don't have a relevant degree, HNC or HND you can still gain entry into the site engineer career path through undertaking an apprenticeship.
You will access to work in lower positions like a trainee technician with the possibility to take further study whilst you work.
More supervisor based roles will become available to you as you gain more experience.
Chartered membership of relevant professional body
As touched upon earlier it's important that your chosen degree, HNC or HND is accredited by a professional body.
To progress your career to more senior levels you will need to become a member of a professional body.
This is why it's important you have a recognised qualification.
The leading professional body for construction is the Chartered Institute of Building (CIOB). And the top professional bodies for engineering are the Institution of Civil Engineering (ICE) and The Institution of Structural Engineers (IStructE).
If your qualification isn't accredited by any of these bodies you will need to undertake further academic assessment in order to gain membership to ICE or IStructE.
Chapter 4 – Real Talk: How Much You Can Earn (Plus What Hours Will You Work)
How much does a site engineer earn (and what hours do they work)
Now let's get into the real nitty gritty:
Salaries.
Before you embark on any career path, you'll likely want to know what sort of money you will be earning.
Whether that's your starting salary, or perhaps what you might earn after you've gained some experience.
They're all important.
And you're quite right to find out what these numbers will be.
After all, they will have a big effect on your professional and personal lives.
So without further ado, here is some insight into the salaries of a site engineer.
Upon graduation and securing your very first position as a site engineer you might expect to be on anywhere between £22,000 p/a to £26,000 p/a.
Having gained some experience in the role and worked on a variety of different projects your expected salary is of course likely to increase.
Based upon your level of experience and further qualifications you will probably be looking at between £25,000 p/a to £35,000 p/a.
If you continue down this path as a site engineer and progress to senior level then you will see another jump in salary.
This time you could expert to earn £35,000 p/a to £55,000 p/a.
Now, it's also worth noting that salaries can vary greatly based on the location and employer. With London roles usually paying more than their counterparts elsewhere in the country.
On top of these salaries as a site engineer you will probably receive some kind of additional benefits.
These can range of a company car to private health care.
These additional benefits will be reliant upon your employer.
Chapter 5 – How Your Career Will Progress (Plus Ongoing Professional Development to Stand Out)
What is the career progression and professional development of a site engineer
Like a lot of careers or professions there's varying levels of progression available to you.
These can include under going different training courses.
Attaining a specific job role.
Or gaining more experience and becoming a senior member of the team.
To shed some light on both career progression and professional development, we've noted down some paths you might take to help boost yourself.
Let's start off with career progression.
Perhaps nine times out of ten you'll start off your career as a site manager by joining a graduate scheme for an employer.
Here you'll get your first taste of what it's like to be a site engineer and start earning valuable experience.
Commonly graduate schemes are well structured to provide support and guidance and enable teaching opportunities.
Having completed your graduate training scheme it's probably you'll take on your first actual role as an assistant site engineer.
This will allow you to further cut your teeth and understand what it's all about.
From here you will likely start progressing through the ranks.
This will depend on your level of competency, employer and opportunities available to you.
Having established yourself as a site engineer you'll want to start becoming more senior. Hopefully progressing to Senior Engineer.
You may be happy being a senior engineer for some time or for the rest of your career.
However, that said there is still further progression out there for a budding site engineer.
You could potentially move up to a project or contracts manager overseeing the running of much larger projects.
The beauty of these roles and being a site engineer, unlike other roles is that you can still remain hands on if you so wish whilst pursuing senior positions.
Deeply entwined with career progression is professional development.
Let's look out what you can do to boost your professional development which will help your career progressions rise.
First of all you will want to soak up as much on the job training as possible. Combined with lots of different short courses that will be available to you.
From here you will want to focus on continuous professional development or CPD for short.
As you progress different internal and external training courses will become available to you which will allow you to grow as a site engineer. Learning new skills and industry expertise that will help set you apart from your competition.
The ultimate goal of a site engineer is to gain chartered status.
To do so, you will need to join an accredited body. Such as the CIOB, ICE or IStructE.
When you join you will understand initial professional development or IPD.
Commonly this will culminate with a period of assessment or examination.
Passing this will grant you chartered status making you a well respected and valued site engineer across the industry.
Chapter 6 – These Tips Will Set You Apart From Other Budding Site Engineers
Top tips for being a good site engineer
So, you've started your graduate scheme and are well and truly on your way to becoming a fully fledged site engineer.
You may be thinking:
"What can I do to stand out from my peers?".
Well, luckily for you we have some top tips for a budding site engineer!
1. Do your research
Gathering information and being prepared can be a game changer.
It'll set you out from your peers as well as improving your own confidence by being better informed.
2. Gain experience
Of course, this will progress the longer your spend in the field.However, where possible try and be proactive about gaining experience in different facets of the role.
Be inquisitive and ask questions to make sure you have a good grasp of a variety of different situations.Being exposed to more situations and knowing what to do will help stand you out in front of your competition and peers.
3. Network and find a mentor
This will require you to be proactive and resourceful.Make sure you attend industry events and conferences as this is a perfect opportunity to network with fellow site engineers.
This will help get you better known in the industry.
If possible, approach a more senior site engineer who is well respected and ask if they will be your mentor.
Being on hard to offer support and answer any difficult questions you might have.
4. Cast a wider net
When looking for roles as a site engineer you might want to consider casting a wider net and being flexible.
For instance you might want to be more flexible on the locations you're willing to work, or the type of employer you're after.
By casting a wider net and being flexible you're more likely to land that coveted site engineer job you're after.
5. Don't commit to a specific specialism too early
Whilst it's important to specialise in your career you want to make sure you've investigated all of options thoroughly.That's why we suggest not specialising too early.
Take time to way up the pros and cons of different specialisms and think carefully about what you like about each.
6. Keep developing your skills
As with any career it's important to focus on improving your skills.
You'll want to concentrate working towards your Initial Personal Development (IPD) as well as attending additional courses and finding other training possibilities.
7. Update and polish your CV
As with any job you're applying for it's vital to have an excellent CV as this is the first thing your prospective employer will see.
This will form their initial opinion of you and whether you're right for the potential role.
Make sure it is all up to date, there are no silly grammar or typo mistakes and it presents the best version of yourself without fabricating the truth.
Chapter 7 – Make Sure You Know These Things If You're A Site Engineer
Things every site engineer should know
There are a great many different things a site engineer needs to know.
However, we've identified some key things we think you should have a good grasp of.
1. Concrete is never dry
Not only will you quickly learn that there are many different types of concrete you will also learn all the different stages of drying during the curing cycle.
Infact, you'll come to know that concrete actually continues to dry throughout its entire life.
So why is this?
When water is added to cement, it reacts with it, becoming part of the concrete.
The chemical reaction that takes place continues for years, during which time the water remains binding to the concrete as it continues to cure and harden over time.
The water never actually leaves the concrete, meaning it never dries out entirely and therefore cannot reabsorb water later on to become a soggy mess.
2. Every kind of truss and what makes them different
You should be a civil engineering whizz when it comes to the hundreds of different forms of truss that exist.
Not only that, but you'll know when is best to use a certain truss and be an expert at calculating their loading capabilities.
Make sure you know your vault truss from your scissor truss before you apply for one of those civil engineering jobs you had in mind.
3. Why the Leaning Tower of Pisa hasn't fallen down yet
All civil engineers should know this one.Although leaning since its completion in the 12th century, the famous tower still hasn't fallen, despite reaching an incline of 5.5 degrees at its very worst during the 1980s.
Since then civil engineering experts have kept the tower from collapsing by placing huge weights on the north side of the tower, which have pulled it in the opposite direction of its lean.
They say that with this action it is likely the tower will last another 800 years without risk of falling.
4. What a cone depression is
When too much water is pumped out the ground at too quick a rate for it to be replaced, the water table drops, leaving the well dry.
The water table around the well slopes, forming a cone-like shape.
The best way to describe it is to describe what happens when you drink a milkshake.
When you suck through a straw, there is always dimple formed around the straw.
This is exactly how a cone of depression is formed.
5. Where pipes lead to and where your water comes from
This one might sound obvious, but as a civil engineering expert you'll undoubtedly have an obsession with figuring out exactly where the water in a building flows to and where it enters.
After all, you are trained to design infrastructure that is hidden from view, so it's only natural that you'd become fascinated by this kind of thing.

Chapter 8 – Choosing The Right Specialism That Suits Your Goals and Interests
Site engineering specialisms
As a site engineer you will have plenty of opportunity to specialise in a particular field.
As we covered earlier, you don't want to rush this decision or pick one you're not 100% about as it will dictate a lot of your future career path.
So, to help make that decision a little easier, we've laid out some of the top site engineering specialisms you'll want to consider.
You'll likely have your own criteria for picking based on enjoyment, location and potential earning power. But have a look and see how these specialisms fit with your own values.
BIM Manager or Building Information Modelling Manager
A BIM Manager is an engineer who looks after the implementation of Building Information Modelling as well as the Digital Construction procedures at the design, construction and handover stages of a project.
As a BIM Manager you will have the opportunity to work for a variety of different individuals, such as the client, designer or contractor.
Your responsibilities and role will vary depending on which of these organisations you're actually working for.
You can find out more from ICE or Institution of Civil Engineers.
Coastal Engineering and Management
As you may have assumed the coastal engineering and management specialisms includes many different disciplines related to how the sea interacts with the land.
As an engineer in this sector you'll likely find yourself involved in coastal construction projects as well as the steps up to that point.
More increasingly this specialism now includes understanding what will happen if nature is left to take its own course.
As well as an having a high level understanding of engineering, it's important for a coastal engineer to understand oceanography, geology and other facets of the marine environment.
Municipal Engineer
If you've ever wondered who makes cities an enjoyable and civilised place to work, live and play then wonder no more.
Ensuring everything runs as it should is the Municipal Engineer.
Municipal engineers act as a link between citizens and politicians. Helping each party understand the options available to them and helping to decide where public funds are spent.
In the past municipal engineers were employed by councils, but more often nowadays they're employed by consulting engineers, contractors and partnerships.
Traditionally the job entitled looking after highways, bridges, traffic and lighting. However, more recently this work is supplemented by various schemes that ensure the city operates as it should.
This includes, design, planning, commissioning, maintenance and management of streets, town centres, parks, public places, leisure facilities, public buildings, water supply, drainage, domestic and commercial waste recycling.
More municipal engineer information available here.
Railway Engineer
It won't be a massive shock to discover that a railway engineer specialises in the design, construction and operation of all types of railway systems.
Railway systems could include main line, high-speed rail, metro or light rail.
As a railway engineer you will likely be working with a wide range of different types of engineering specialisms.
These could include, civil engineering, electrification, track, power and signalling.
Site engineers can typically work in both the private and public sector with the industry being worth billions of pounds.
More information on railway engineering
Renewables engineer
A renewable engineer is an engineer who works in the renewable energy sector, tackling technologies design to harvest energy from the wind or sun.
Renewable engineers can be expected to carry out site inspections as well as energy surveys.
Their role is also likely to include combining renewable energy production with existing power systems, conducting feasibility studies, cost estimates, preparing detailed schedules of work and checking ground and site conditions for the installation of renewable technologies.
More information on renewables engineer
Risk Manager
As with any construction or engineering project, there's a certain amount of risk that will need to be managed and mitigated.
This is where Risk Managers step in.
A Risk Manager is an individual who needs to build a risk conscious culture so that everyone working on a particular project is fully aware of the risks that are possible.
It is then the responsibility of the Risk Manager to put in place plans and strategies to mitigate this risk.
Safety more than ever in history is at the forefront of delivery any project, making a risk manager an essential member of the team. Ensuring everyone's safety and are at no risk of physical harm.
More information available here.
Water Engineering and Management (Flood Risk Management)
Civil engineering is a key factor in protecting communities from floods from sea, rivers and waterways. A civil engineer who specialises in water engineering and management will be involved in detailed analysis methods that help projects by national agencies and authorities.
More common nowadays is local communities implementing their own flood risk management and getting engineers to assist with their projects.
There are two main branches of water management engineering, hard and soft. Hard includes dams, embankments, barriers, gates, pumping stations and sea walls. Whereas soft includes beach nourishment, saltmarsh restoration and managed retreat.
Find out more about water engineering here.
Chapter 9 – Some Top Engineering Tools You Should Be Using
Site engineering tools
As a budding site engineer you might want to get yourself acquainted with our list of top engineering tools.
Proven tools used everyday by site engineers across the globe.
Getting a head start here can really help you in your career.
Whilst quite pricey, Autocad 3D is a superb site engineering tool which supports Building Information Modelling or BIM for short.
Perfect for enhanced civil engineering design and construction documentation.
"Autocad Civil 3D is one of the best tools out right now for people interested in civil engineering jobs and knowledge. After trying it for a few days I can tell the quality is top notch."
An app especially designed for site and civil engineers.
It facilitates the calculation and design of work and provides important information.
"When there's so much to retain while doing my job, it's nice to have this useful app with all the formulas I need on a daily basis. It's saved me a few times!"
The ideal quick reference app.
Contains formulas for most engineering topics including chemical, mechanical, electrical and civil engineering.
"There are some things that are essential for someone that is working in civil engineering. The software tools are an example of this."
Find out more
A fantastic illustrative app which uses text, pictures and videos to help you learn civil engineering. A must have for engineering students.
"Here is an app where you can learn quite a bit about Civil Engineering Trends and Technology. Try this out and learn about things you've never known about."
Find out more
If you need to make fast calculations of the parameters of beams and reinforced concrete then try out this Android app. It provides must know information for concrete and beams.
"My sister is a civil engineer and I was looking at tools that would make her life easier. She just got a new phone, so I figured she could get a boost in productivity with some apps. This Reinforced Concrete app will really make her life easier with the ability to do quick and accurate calculations in a variety of ways."
Find out more
Use this Android app to design two-dimensional hyperstatic frames with Finite Elements Analysis.
"As far as engineering apps goes, this is one of the top essentials. The visuals really basic, but when it comes to drawing models, the simplicity of the controls can't be beat. Creating graphs from data points were a breeze."
This Android app provides a detailed civil engineering dictionary containing 10,000 words and images. It uses aboutcivil.org as a source and is great for helping students learn different engineering concepts.
"This is one of my absolute favorite civil engineering tools. I use it constantly! It's an excellent dictionary. "
Taking on the structure of a textbook this Android app is a huge catalogue of different illustrations and pictures about civil engineering.
"I was looking for some basic Civil Engineering apps and I am happy to report that the Civil Engineering Basics app does the job. It uses the structure of a text book (or an article) to explain the concepts you need to know for helping you with engineering."
A very popular software company known for the creation of design and 3D modelling tools. Maya, 3Ds Max and Autocad make up some of their best known and loved applications.
"Autodesk has plenty of useful tools for bringing projects to life, and across different industries like architecture, media, building, manufacturing, entertainment, and construction. As an engineer, I especially use Revit, Civil 3D, and Autocad and totally recommend them!"
Chapter 10 – Get In Front Of These Employers To Boost Your Chances Of Employment
Site engineering employers and career prospects
As a site engineer you'll be highly employable and sought after.
But who will employ you?
Main employers of site engineers can be broken down into different categories.
First we have building companies and contractors.
Next we have civil engineering companies. Typically these can range from massive multinational organisations to much smaller local based companies. Depending on where you choose to go will be very much down to personal preference and what suits you best. If you choose a multinational you could end up travelling to far flung places of the world. Whereas small local firms will normally mean travelling is limited.
If the private sector doesn't appeal, there are plenty of opportunities in the public sector. Public sector organisations that employ site engineers include transport authorities as well as gas, electricity and water suppliers.
The final option is to work as a consultant. Site engineering consultancy can be broken down into two distinct groups. You could work as a consultant for the government and local authorities, advising on different civil projects. Alternatively you could consult for developers and multinational corporations.
Site engineering recruitment drives tend to mirror academic timetables. Applications tend to open around October and November in your final year of study for graduate schemes starting the same time the following year.
That said, like most jobs you will also find recruitment happening all year round. This is especially true for small to medium sized businesses.
So there we have it…
You're definitive guide to all things related to site engineering. Hopefully the above information will help you forge your career as a site engineer.
If you have any questions please leave a comment.