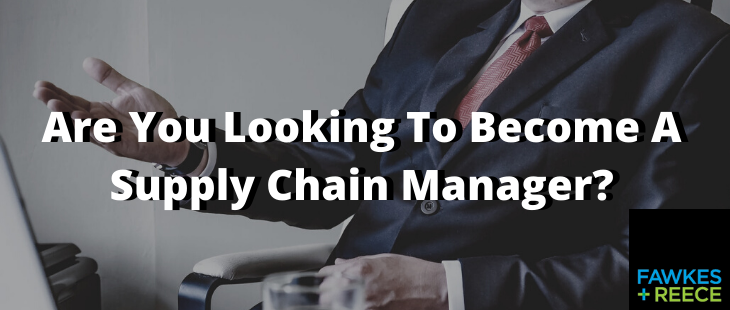 Posted by Fawkes and Reece
On 25th October 2018
Supply Chain Managers are the individual that is responsible for the moving of goods between manufacturers and suppliers to the customer. The Supply Chain Manager will oversee the development of the product system, through purchasing the raw materials to the delivery of the product at the end of the supply chain. They will also ensure that a sufficient amount of the product is made and the correct storage solution is put in place for the product.
Responsibilities
Depending on the sector that you decide to work in, this will heavily affect your responsibilities as a Supply Chain Manager. Typical responsibilities will include:
Controlling the manufacturing and delivery process of products
Working with management and buyers to source the correct products
Planning and implementing logistical strategies and ensuring targets are met
Managing and motivating a team of supply chain staff
Develop forecasts and inventories and keeping an up to date record of process and analyse performances
Implementing new technologies and staying up to date with latest trends in sector
Negotiating contracts with suppliers and customers
Overseeing product storage, distribution and handling
Continuously looking for ways to improve the supply chain performance and processes
What to Expect
Supply Chain Managers have an important role and the working environment is usually office based with external visits to warehouses, suppliers or customers.
Visits to warehouses, suppliers or customers will involve travelling within the region that the organisation works, on occasion this may include overseas.
The overall process of managing supply chains can be highly complex and therefore may be stressful at times.
Qualifications Required to Become a Supply Chain Manager
Supply Chain Management roles are available to candidates who have a relevant degree in supply chain management or a similar subject. A similar subject may include; business management, computing, information systems, transport, distribution or logistics.
Skills Required
In order to have success in becoming a Supply Chain Manager, you will need to have the following skills:
Excellent planning skills
Good time management
Decent problem solving ability
Ability to make quick decisions that offer solutions
Strong relationship management skills
Leadership skills and ability to motivate a team
Great written and verbal communication skills
IT literate
Logical and systematic approach to work
Working Hours
Typical working hours of a Supply Chain Manager are usually set between Monday to Friday within the standard hours of 8am until 6pm. Although a lot of industries that recruit Supply Chain Managers, are operating across 24 hours, so there may be positions which include shift work, along with evenings and weekend hours.
Salary
The starting salary of a Supply Chain Manager can be anywhere between £20,000 and £25,000. Once you have developed into the role further, with new responsibilities and duties, this salary can increase to between £25,000 and £45,000. When you have been in the role for a long time, middle to senior management can earn up to £60,000 in this role and top executives can earn more than £100,000 annually.
The average salary of a Supply Chain Manager is £46,422.