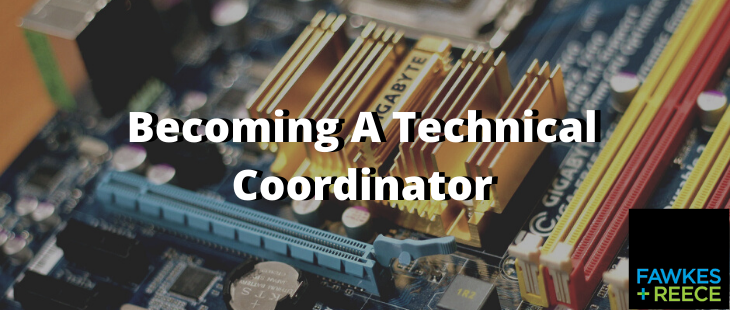 Posted by Fawkes and Reece
On 18th October 2018
Becoming a technical coordinator is an excellent career choice for an individual that likes to build relationships with suppliers. You may suit a career as a Technical Coordinator, if the following description appeals to you.
Technical Coordinator Job Description
A technical coordinator oversees activities done by a technical company or department. Supervising the repairing and troubleshooting activities for their company or departments technological equipment.
A technical coordinator has a range of different duties and responsibilities that may include:
Liaising with senior management to determine a technological plan for the organisation
Coordinating times for the setup of staff computers with passwords by the systems administrator
Coordinating travel to meetings, conferences or events
Ensuring the tasks performed by technical staff are adequate to the industry regulations
Working with executive management, vendors and IT staff to create a technology plan for the organisation
Release of purchase requisitions to the appropriate level to support purchasing as required
Oversee inspections and troubleshooting of equipment, machinery, computers and software
Assessing costs and benefits of the products or services and taking findings to the Director of technology
Generating and maintaining service order task lists for active service orders
Maintaining and developing good working relationships with vendors and subcontractors
Provide data to supervisors, co-workers and subordinates
Generating internal budget quotations
Qualification Requirements
If you are still interested in becoming a technical coordinator then you must ensure you have obtained the correct education requirements. Although qualification requirements may differ between different employers, most employers prefer candidates who have gained both work experience in a similar role as well as a diploma or a degree in a relevant field.
Experience Requirements
To land a career in becoming a Technical Coordinator, employers usually prefer to hire you if you have relevant experience in a similar role; technical support or a technical coordinator with another organisation. As well as having experience in a similar role, most employers will also prefer a candidate if they have experience in a similar industry in which they operate in.
When applying for a Technical Coordinator position, it is important to highlight the previous experience you have had in a relatable role to the one you are applying for.
Who Hires a Technical Coordinator
The types of companies who are interested in hiring Technical Coordinators can be a variations of small to large organisations across a vast array of industries. Typical organisations that hire Technical Coordinators include:
Technology firms
Construction companies
Technology departments within larger organisations
Colleges or Universities
School boards
Hospitals and healthcare organisations
Oil, gas or mining companies
Transportation companies
Manufacturing companies
Skills and Traits
With any job, there are certain skills and traits which you must have in order to have a successful career. These skills allow you to become the best candidate in order to fully outperform your job duties and responsibilities.
Technical Coordinator roles usually prefer candidates to have a broader knowledge of different technologies as opposed to specific technological skills per industry. However they are expected to have broad technological knowledge to have the ability to develop and maintain relationships with 3rd party companies such as vendors.
Particular skills and traits which can help to become a Technical Coordinator can include:
Excellent written and verbal communication
Ability to work individually and with others
Strong, positive work ethic
Ability to handle unexpected work challenges
Budgeting knowledge
Interpersonal relation skills
Broad knowledge of technical equipment and systems
Professional and customer led attitude to work
Great time management skills
Salary
The salary of a Technical Coordinator can vary depending on the level of experience and education before landing a role in this profession. Type of employer and industry in which they operate in can also affect salary levels. There is no reliable salary for a Technical Coordinator, however as with every role it can be competitive.