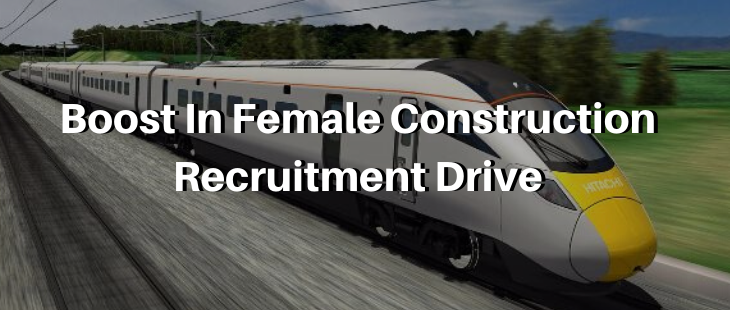 Posted by Fawkes and Reece
On 20th March 2017
Network Rail is taking the lead in trying to increase the number of women taking up technical and engineering roles. The rail infrastructure group has announced that it is aiming for female employees to make up 20% of its new recruits by 2020.
To ensure that they meet this target and improve both construction recruitment and civil engineering recruitment, they have set up an engagement programme and are working with schools to see what can be done to encourage more girls to study technical, engineering and scientific subjects. These would qualify them for future careers in industry and engineering, where there are chronic skills shortages.
Network Rail employs 37,000 people, and of those roughly 16% are female. This isn't a bad record because across the overall engineering industry, only 9% of the workforce is female.
Negative Perceptions of Engineering Careers
A lot of the problem stems from perceptions of engineering among even very young girls. Lorraine Martins, Network Rail's director of diversity and inclusion, said that this effect was apparent even among girls of seven, who did not think engineering was a career for them. She said that there was a perception that engineering jobs were for boys, and outdated stereotypes about certain jobs being for boys or girls were often passed to girls through families and teachers.
So from this month, Network Rail staff will be going into schools to give pupils information on real-life careers in engineering, technology and science.
Network Rail needs to increase construction recruitment because it has a £40 billion investment programme to deliver by 2019. One of its recruitment initiatives will be to try to attract female apprentices to the rail upgrade part of the plan, a massive project which will account for two-thirds of the £40 billion spending.
Helen Samuels is engineering director for Network Rail, and she commented that engineering was, at heart, problem-solving. Sometimes these problems were mathematical, but sometimes they involved getting people to understand what was happening and why. At other times it meant trying to build something for less money. She pointed out that different skill sets and diverse team membership both contributed to better problem-solving.
One of the continuing myths about engineering is that it is "dirty" and physically demanding. Whereas the truth is that many engineering jobs are based in offices and others are based partly in offices with some visits to sites.
400,000 New Recruits a Year Needed
Last month, a consultancy issued a report estimating the people requirement for the construction industry up to the year 2021. They found that 400,000 people a year would have to be recruited.
Unfortunately, the industry is battling against prejudice, not only from parents but also from school-age children. The housebuilder Redrow asked children whether their parents would think that a career in construction was a good choice for them. Fewer than 20% thought their parents would approve of such a career choice.
Acutely aware of the lack of diversity in the construction industry, the government has launched an initiative called #notjustforboys. A number of employers are involved and are hosting events and activities. The Construction Youth Trust is also putting its weight behind the drive and has been working with Building magazine to ask the industry to "pledge a placement" in order to open up work experience placements for young people in construction.
"Building Girls Up" is another government initiative which is being rolled out in London initially and then in the rest of the country. This involves young women between the ages of 16 and 18 attending workshops which will let them know about the opportunities and careers available. Girls who then want to apply for an apprenticeship or a job in the construction industry will be introduced to potential employers and industry role models.
However, the construction industry has some way to go in providing the flexible working arrangements that most women need as they get older and have children.