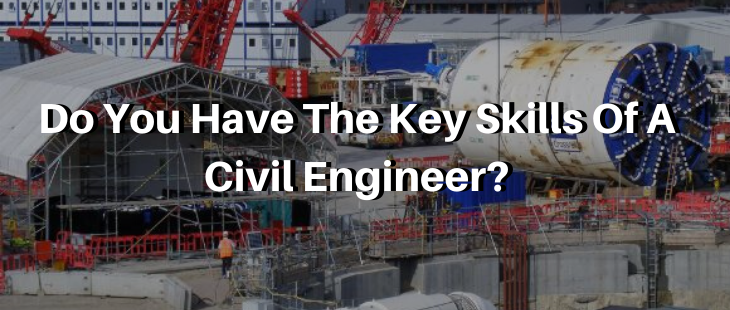 Posted by Fawkes and Reece
On 8th April 2017
An engineer spends time in the office on drawings and reports as well as time in the field, in all weathers, setting out and surveying for a host of diverse projects, from highways to high-rises. The first requirement for civil engineering jobs is a love for this versatility and variety.
Jobs in civil engineering take you from site to site, often in different parts of the country or even abroad, and each time you don't know exactly what you'll face until you get there. You will need to get to know new colleagues quickly and work well with contractors from a wide range of other specialities. Constantly in the middle between management and manual trades people, you'll be relied upon to keep everything running smoothly, communicating practical issues from field to office and translating drawings and specifications from office to field. You will be required to solve most issues on the spot. If you thrive on adaptability and diplomacy, this vocation is for you.
Another quality engineers tend to share is a pride in the buildings and infrastructure they help build; after all, it's the engineer who tells everyone exactly what to put where, and from that role comes an intimate and satisfying sense of responsibility for our created environment. Human history is counted from the dates of our earliest roads and buildings – all of them were jobs for civil engineers.
In the Field
The engineer's three main tools are the theodolite, level and tape measure. These tools are used for one clear purpose: to do geometry. Unlike school, in place of A4 you're drawing or measuring on a field that could be tens or hundreds of metres in length and breadth. It may be uneven in height and strewn with obstructions. Resourcefulness is needed to find ways to see round those corners, and at all times your powers of accuracy will be pushed to their limits.
Engineers are often tasked with surveying the work of other sub-contractors to ensure compliance with design specifications and project deadlines as well as with other statutory and site rules like health and safety and environmental guidelines.
In the Office
The civil engineer needs to be neat and confident at the drawing board, preparing, amending or annotating plans by hand when required, but also competently performing the same tasks at the computer using Autocad or other drafting and design packages. He or she will also compile simple reports in common office applications like Word and Excel. The ability to communicate results clearly to everyone else involved in a project will always be the key to your success. Keeping documents properly updated, identified and ordered as projects unfold is also vital. When everyone from the architects to JCB drivers can ask for numbers, you'll have to know where they are or how to get them.
Jobs in civil engineering also prepare you for a variety of specialised roles in the wider construction industry. Fawkes & Reece sort civil engineering recruitment into five sectors for your convenience.
Engineering
This section is for setting out, road and site engineers and assistants, senior/project engineers and land surveyors.
Commercial
This contains openings for quantity surveyors and claims surveyors and also for procurement and supply chain managers.
Pre-Contract, Design and Support
The opportunities here are for estimators and bid managers, design coordinators and document controllers.
Operational/Site Management
The broad experience that comes from jobs in civil engineering can lead naturally into a role as a foreman or site agent.
Senior Management
Project and contract managers and regional managers of building companies are frequently from civil engineering backgrounds.
Fawkes & Reece have over 15 years' experience working with specialist consultants in these fields. We've found thousands of jobs for civil engineers and helped thousands of contractors find experienced personnel. Our engineers have progressed their careers by working on some of the most prestigious development enterprises in the country.