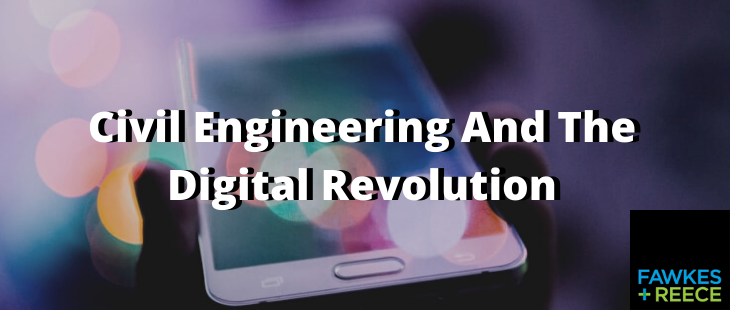 Posted by Fawkes and Reece
On 11th July 2018
The civil engineering and the digital revolution are not often linked together when people talk about disruptive technology and innovation. Yet engineering is increasingly a key driver in the technological revolution we're witnessing. And that's leading to more demand for engineering graduates, with starting salaries up a healthy 18% in the past year.
Robotics, 3D printing, Artificial Intelligence (AI), designing sustainable environments and products – all require engineering skills, allied to digital awareness. In fact, digital technology's next great frontier is the world of infrastructure and objects. The Internet of Things (IoT) is only the beginning.
This means that the stereotype of the engineer as a man in a hard hat wearing a high-viz jacket is completely outdated. So let's take a look at some of the new routes into engineering that combine the digital revolution and engineering innovation and are leading to new disciplines within the subject.
Machine Learning
Mechanical engineering, control system design, AI, robotics and digital technology all come into play in engineering machines that can learn and adapt. Amazon, for instance, has been advertising for new engineering roles to take "Alexa" to the next level through all kinds of machine learning initiatives. And they're also after people who can help develop the next generation of intelligent drones – we all know why!
Environmental Engineering
Sustainability and reduction in emissions are two huge areas of interest currently. People have come to realise that for products and infrastructure to be truly sustainable, their basic engineering has to change, and sustainability has to be engineered into the design of the object.
Environmental engineers are also active in seeking solutions to problems such as water-borne diseases, air pollution and the management of wastewater in high population areas. The monitoring of physical entities via smart sensors, and the use of the resulting data to manage them through AI, is becoming increasingly common – just another of the areas in which the digital revolution and engineering are merging.
BIM, Modelling and VR
We already have Building Information Modelling (BIM). This allows a shared model to be built, with much of the building and infrastructure design and planning carried out using BIM-related tools. What we don't have currently are realistic models of human behaviour inside the buildings that are being planned. From the crossover between the digital revolution and engineering, we can expect to see VR modelling of the building being used by engineers to test and inform the design.
Sensors and scanners will feed information to control centres that will be designed to adapt the physical environment. Construction firms will need engineers who can model buildings and use VR to assess risks and prototype real-life use.
Cyber-Security Engineering
This is another area where the physical world meets the digital information world, and engineers who understand both are in great demand. Defence contractors, such as BAE, are now employing graduates to work on cyber-security. As physical objects become connected and "smart", the potential security risks multiply, and so does the need for cyber-security.
It's no wonder that employers are chasing engineering graduates who can harness both the digital revolution and engineering to solve complex problems and push innovation. And graduate starting salaries are certainly reflecting the demand for these multi-skilled and talented people.