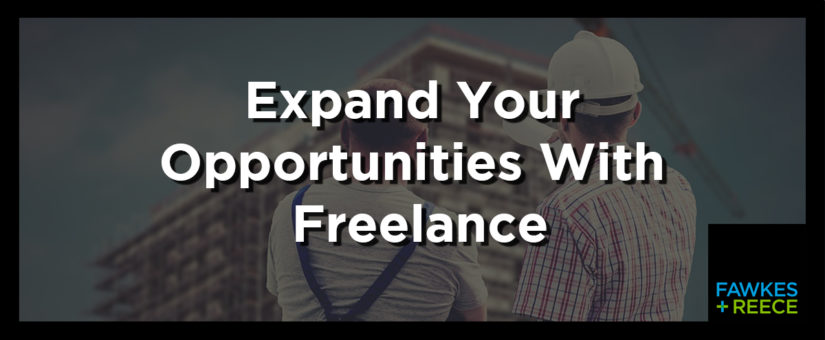 Posted by Fawkes and Reece
On 9th February 2017
The demand for construction professionals is outstripping availability at an ever-widening rate. This gives people more choice and candidates are able to search for interesting and challenging projects to work on or simply consider the merit of an assignment that may suit their need. One way to access the best opportunities and have variety each year is by working on freelance assignments. Once seen as a risky short term option, the opinion of freelance workers and freelance assignments has changed.
Working freelance is a personal choice and tends to suit people at different stages in their careers. Whilst there are some very positive points and it can be financially beneficial for both candidates and clients it is always about offering value.
So, what is drawing people to freelance?
Demand – the number of projects means that opportunities are plentiful. Assignments running back to back can be common place for those who have good references and complete assignments.
Flexibility – you can pick and choose the assignment that you take on.
Diversity – you have the option to work on the type of projects that interest you rather than being restricted to the work your employer takes on.
Colleagues – you can get the chance to work alongside different teams of people.
Challenge – the opportunity to test and stretch yourself in different environments and projects enhances professional development.
Control – your career is in your own hands, you can set the direction rather than relying on a company to do it for you.
Pay – you receive an agreed rate of pay per hour or day which in many cases will be equivalent or greater than the same role on a permanent basis. Bear in mind you won't receive the benefits from any company as a permanent member of staff.
What is expected of you as a freelancer?
To make the effort to integrate into a team;
To add value and support a business;
Demonstrate the same values as a company's permanent employees and act as their representative with the public or external parties;
See an assignment through to the end. If the assignment has an end date, then it is best practice to complete it before you decide to move on;
Don't leave a business in the lurch. If you wish to end an assignment agree a suitable date that allows the company adequate notice; and
Ensure you take on a role that suits your ability.
What are the downsides to freelancing?
A company can end an assignment on short notice;
You will be expected to make your own arrangements for pension and health cover;
If you are keen to get promoted or progress within a specific company then you will need to consider becoming a permanent employee; and
You will need to make arrangements for your annual tax return and you may even need to set up your own limited company.
We have 100s of people working on freelance assignments with leading construction companies across the UK. As well as professional consultants, we have a dedicated payroll and compliance team who will support you on every assignment and assist you every step of the way.