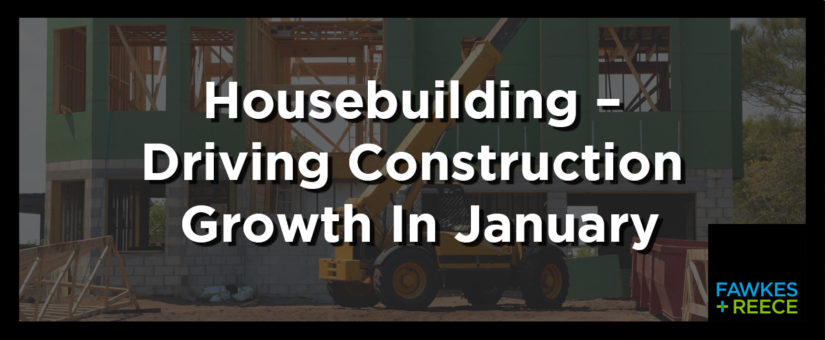 Posted by Fawkes and Reece
On 20th February 2017
The start to 2017 has been a strong one for the construction industry. Barbour ABI, in their Economic & Construction Market Review cited a strong performance for the industry in January, with a 5% rise in the number of contracts awarded in the same month last year. It was housebuilding that was the engine room for construction contributing over 90% of the total construction contract value in the month.
Michael Dall, lead economist at Barbour ABI commented "The housebuilding sector is performing admirably, we expect to see its growth continue to flourish across 2017". With close to £6 billion worth of housebuilding contracts that are approaching the award stage this certainly seems to be the case. The top five housebuilders in the UK are all reporting growth in revenue and completions further indicating the buoyancy in the private housing sector.
The government has acknowledged the need to build between 225,000 and 275,000 homes every year to meet demand. In their housing white paper published this month they also signalled to developers an intent to develop a planning framework that is more supportive of higher levels of development, with quicker and more effective processing and determination of planning applications.
So, what does all this mean for the housebuilding sector? The strength and stability of the sector make it one of the most attractive parts of construction to work in. Continual growth and the strong support of the government in making it quicker and easier to build new homes along with the £3 billion Home Building Fund will only serve to support this.
To meet the demand it will need to attract new people at all levels. The sector has made considerable inroads in becoming more inclusive and professional, capable of attracting the most talented construction professionals. This will need to continue along with looking at improving efficiency and exploring new methods such as pre-manufactured housing as recommended by the recent Farmer Review.
The start to the year has seen solid demand from all of our housebuilding clients, with vacancies up over 15% from last year. 2017 looks set to be an outstanding one for the sector.