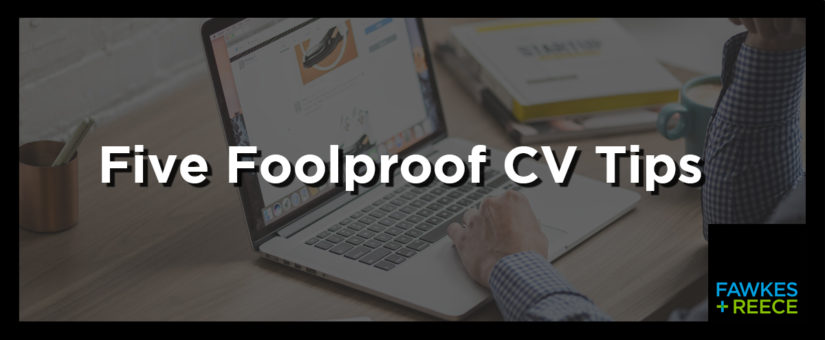 Posted by Fawkes and Reece
On 16th September 2016
Your CV is your personal sales pitch to prospective employers and you therefore need to ensure you stand out for all the right reasons. Here are our foolproof tips for ensuring your CV is ready for the market.
1. Proofread
Proofread your CV, ask someone else to review it for you and then proofread it again yourself! Grammatical errors and spelling mistakes will ensure your CV ends up in one place; the bin!
2. Professional Design
Keep your CV's design style simple, professional and easy to read. Your CV is not the place for experimental fonts, creative templates and eclectic colour schemes. Choose a clean font and keep the pages simple and tidy.
3. Formatting
Ensure you save your CV in a widely recognised file. Saving the document as a Word document or PDF will ensure almost everyone will be able to open it.
4. Use the Right Email Address
Make sure you use a professional email address. It may seem obvious but using a humorous or personality-focused email address doesn't give the best first impression and may work against you in the review process. Avoid the risk and keep your email address as close to your own name as possible.
5. Make it Personal
Avoid including generic interests in your hobbies and interests section. Steer clear of clichés such as "I enjoy spending time with friends", "I like socialising" and instead include details of any niche hobbies that make you stand out from other candidates.
For more advice on how to tackle your CV call Fawkes & Reece on 020 7288 0166 and speak with one of our consultants