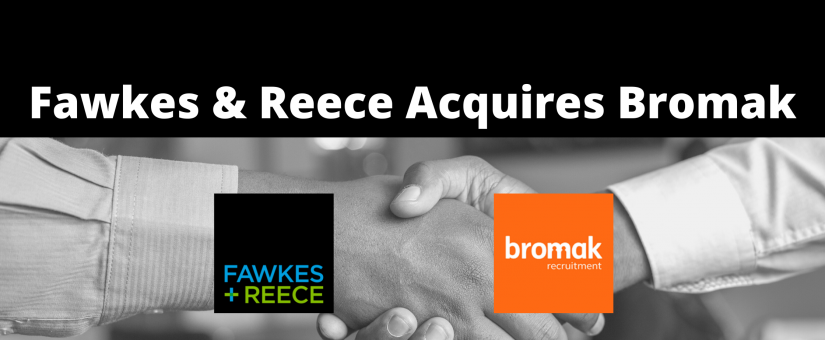 Posted by Fawkes and Reece
On 26th May 2021
We are delighted to announce that we have acquired leading construction recruiter, Bromak Ltd. Based in Bolton, Bromak has four offices located around the Midlands and the North of England. The business is headed up by Cameron Berry (MD) and Chelsey Nuttall (Sales Director) and provides permanent and freelance candidates to the house building and construction sectors across the region.
This acquisition is the next step of the strategic plan for us to achieve full UK coverage across the built environment sector. The Fawkes & Reece group will be expanded to over 110 staff, across 6 offices throughout the UK providing executive search, white and blue collar recruitment for house building, construction, interior fit out and the civil engineering sectors.
Ray Connolly, Group Managing Director of Fawkes & Reece commented; "I have known Bromak for a number of years. They have a brilliant reputation especially with some of our mutual customers. Their company culture is one that fits perfectly and the high capability of their staff will provide excellent service to both companies' existing and new clients in the area. Continuity is very important and I have been so impressed with both Cameron Berry who will continue as Managing Director and Chelsey Nuttall as Sales Director. There was great synergy from the first time I met them. We have customers who regularly require our support in the Midlands and North and as well as having a pipeline of major projects planned in the area, we know this move will add significant value to all parties and link perfectly with our London and Southern teams."
Founder and Managing Director of Bromak, Dave Brooks, said: "Ray's enthusiasm and vision for the recruitment industry was something I knew would take Bromak in the right direction. They have a great reputation in the industry and with their customers. From getting to know their leadership team and strengths it was clear this move will take our business further. I am proud of what my team has achieved, and I know this will add real value to each of them and the business"
Connolly Added: "With our previous acquisition in 2019 of Alltek Limited, based in Southampton, proving to be a great success, especially during one of the most challenging times the world has ever seen, I was confident that with Bromak we can continue growing a brilliant team to support our growth within our core markets for the benefit of clients and further business development".
We are excited to welcome Bromak into the Fawkes & Reece team.