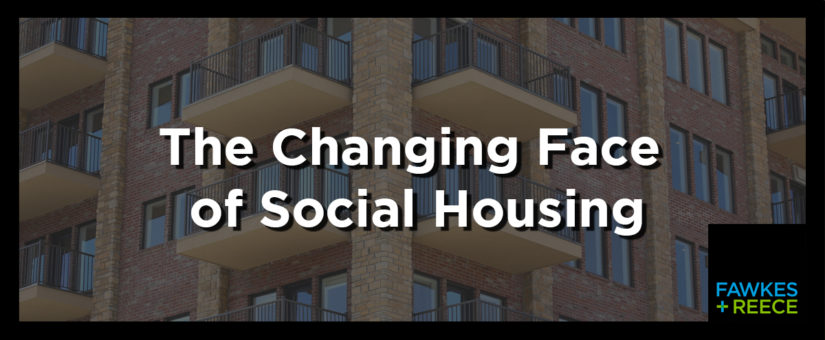 Posted by Fawkes and Reece
On 12th April 2017
The social housing sector has undergone a substantial change over the last 10 years which has seen housing associations take a far more commercial view. An initial drive for efficiencies saw the mergers of smaller housing associations with shared goals however today we are seeing mergers between larger associations who are eager to leverage a larger asset base and revenue stream to borrow to fund future developments. An example of this is the merge of Circle Housing and Affinity Sutton creating Clarion Housing Group, one of the largest housing associations in Europe with assets in excess of £4 billion, more than 125,000 homes and plans to build a further 50,000 over 10 years.
The quality of construction and finishes have increased in recent years, more closely matching the specifications of the properties available through show homes that they sit alongside, often to meet affordable housing conditions of planning approval. Market sale properties are also becoming part of the portfolio of housing associations by using revenue to subsidise their social properties. Social housing providers are increasingly working alongside reputable developers and tier one main contractors such as Countryside, Kier, Wates and Galliford Try, further enhancing the quality of their products. Many upcoming high-profile schemes are also set to contain substantial social housing elements, including Fish Island in East London and Battersea Power Station.
The increased commercial nature of housing associations has also seen several associations take the step to form their own construction companies and act as main contractors. L&Q and A2Dominion have created stand-alone business units such as Quadrant Construction who handle L&Q's construction delivery. Some associations have also created development companies that manage the sale of market sale homes, for example Fabrica is owned by A2Dominion and Latimer is owned by Clarion.
What do these changes mean for people in the construction industry?
Opportunities to work in this sector are on the rise; with plans to build thousands of new homes over the next decade there is likely to be a strong pipeline of projects and demand for skills. Government schemes like 'Help to Buy' will only help to drive demand further.
The increase in the quality of projects along with the need for social housing to sit cohesively within commercial residential developments is making these developments more interesting for construction professionals. The need to deliver quality homes which are also affordable means social housing projects need to do things differently and embrace new initiatives. Joint ventures between housing association, contractors and house builders are becoming more common, which has not only raised the bar in quality and design but also raises the standards expected by housing associations after working with some of the industry's biggest contractors.
Social housing is evolving, it is a vibrant and growing part of the construction sector. Gone are the days of poorly designed council properties of the 70s. Today social housing sits comfortably in the urban landscape alongside commercial, conventional housing and highly desirable luxury residential schemes. The social housing evolution has significantly increased the appeal for construction professionals opting to pursue a career within the sector.