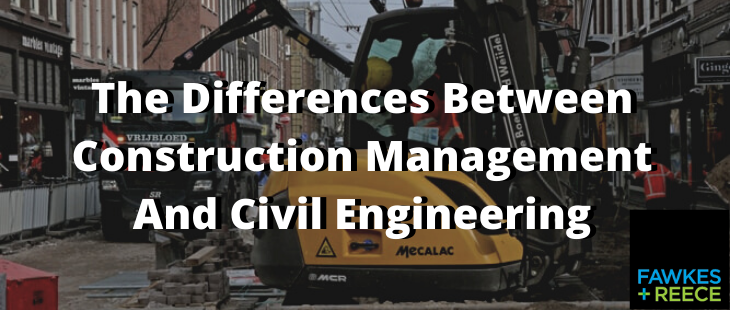 Posted by Fawkes and Reece
On 6th August 2018
While civil engineering and construction management might sound like they are similar career options, they're definitely not. They both feature in the construction industry, and you'll most likely encounter both on a construction site, but that is where the major similarities end. The differences between construction management and civil engineering mean that they both require different specialist knowledge, education levels and the career paths.
Job Descriptions and Duties
– Civil engineering: This is a discipline that focuses on the design, construction and maintenance of the built environment, including things like roads, canals, airports, railways and the like. It deals more with the planning, design and analysis of a construction project. Civil engineers should be experts in construction techniques and statistical analysis, as well as have knowledge on the how load-bearing structures function.
– Construction management: This is a professional service which utilises project management techniques to oversee the design, planning and construction of a project from its start to its end. It's a more hands-on job, and construction managers are expected to understand about building materials as well as be knowledgeable on the fundamentals of design, construction management and planning.
Academic Requirements
The differences between construction management and civil engineering don't just end at their duties and descriptions. Like their roles, the academic requirements between the two professions also differ.
A civil engineer will have a degree in engineering or civil engineering or a Master's degree in civil engineering. It is possible to start as a technician and study part-time for HND or foundation degree, which can lead to a degree in civil engineering. Entry through apprenticeship level is also possible.
Civil engineers need to excel at maths and science and have good IT skills.
Increasingly, construction managers are expected to have a degree at bachelor's level in construction management, construction science, civil engineering or architecture. Often a firm will forgo a university level educational requirement in favour of construction experience like a surveyor or site supervisor.
That said, most construction managers will have taken courses accredited by the Chartered Institute of Building (CIOB) in subjects such as:
– Building studies or building engineering
– Civil engineering or surveying
– Construction engineering
– Construction site management
– Estimating
That way they'll be able to understand the site plans that architects or civil engineers send them, as well as being able to carry out the duties of a site engineer. It is also possible to get into this career through a high level apprenticeship.
Salary
The differences between construction management and civil engineering are less apparent when it comes to salary.
Civil Engineering
Starter: £24,000 (graduates)
Experienced: £25,000 to £40,000
Highly Experienced: £50,000 to £80,000 (senior chartered engineers)
Construction Management
Starter: £27,000 to £33,000
Experienced: £35,000 to £50,000
Highly Experienced: £70,000 or more (senior or chartered managers)
Progression and Career Paths
Civil engineering: With chartered engineer status you'll be able to transfer into senior management positions. You could, in addition, specialise in a specific engineering field, work in research or become a consultant.
Construction management: Once you've got experience you could move into contract management or consultancy. More training and you could transfer into services like health and safety and building inspection. Getting chartered status with CIOB will improve career prospects.