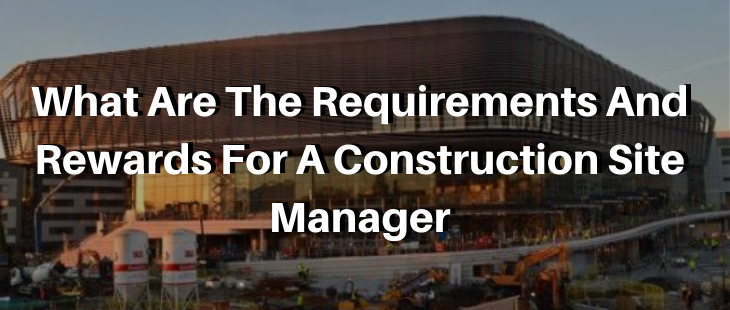 Posted by Fawkes and Reece
On 14th September 2017
The role of construction site manager is not usually an entry-level job in the construction industry. Most people who work as site managers have a formal qualification and several years of experience. That doesn't mean that it's a difficult job to access. If you lack the formal qualifications, you may be able to take them online or through your employer's training scheme. This is also a post that you can achieve by climbing the ladder, starting with a trade or skill and moving into supervisory and then management roles.
Similarly, if you have the degree but not the experience, set your sights on getting plenty of varied experience on construction sites and talk to the manager of each to learn everything you can about what they do.
Qualifications for the job
Most construction site manager jobs ask for a Higher National Diploma (HND), a first-degree or a degree awarded by the Chartered Institute of Building (CIOB). Relevant subjects are building studies, surveying and estimating, civil engineering, construction engineering or construction site management itself.
Obviously, construction site manager is a job that combines both theory and practice and you'll need a few years' practical experience of the construction industry before going for managerial posts. Crucially, the job involves running a safe site, so many employers like candidates with the Institution of Occupational Safety and Health (IOSH) Working Safely qualification, or the more advanced National Examination Board in Occupational Safety and Health (NEBOSH).
Skills and attributes you'll need to demonstrate
Leadership skills are important, so you'll need to be someone who is able to motivate the team and keep them going, even when problems are encountered. You'll need to be able to analyse those problems and take sound decisions based on risk assessments and evidence. Obviously, good planning and organising skills are required and your maths and IT must be strong enough to deal with the technical side of the job. For example, you may need to learn and use project planning software.
What the job involves
Obviously, running a safe site is a fundamental task which begins even before start on site and runs right through to snagging and decommissioning. At the beginning of the project, you'll work with architects, surveyors and other construction professionals to ensure that the plans are robust. Then you'll be hiring staff, planning work schedules and possibly buying materials.
Once site work starts, you'll be monitoring progress, quality and both current and projected costs. You'll be responsible for reporting these to clients or management.
What kind of salary can I expect?
The starting range for people new to this post varies across the country, with London, for example, paying more. Entry level salaries start around the £27,000 mark and go up to around £33,000.
Obviously, managers who are experienced command higher salaries – around £35,000-£50,000.
A qualified and highly experienced construction site manager who is able to manage several sites or a major project site, could earn £70,000 or more, depending on the project.