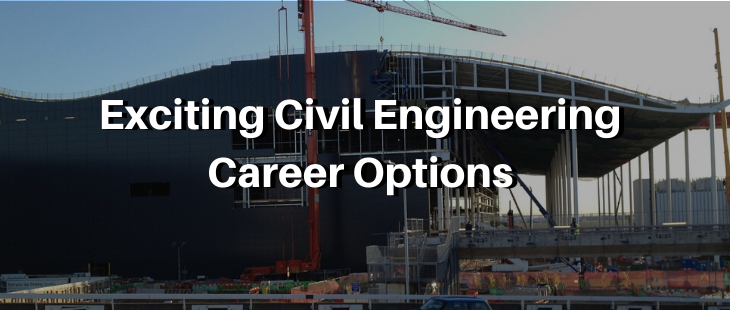 Posted by Fawkes and Reece
On 26th February 2018
If you're thinking of becoming a civil engineer, you're taking the first step towards a career choice that opens up a range of civil engineering jobs in many different fields. The trick is to align your decisions now with your ultimate goal.
Choose Your Career Path
Once you have your degree, you're on a career path with a wide range of interesting and exciting possibilities. You'll find options in infrastructure, buildings and roads in both the public and private sectors, and you'll learn your craft ready to make the most of future opportunities. With additional study and licensing, you'll become a senior engineer with more responsibility for leading projects, and you can then choose to become a chartered or incorporated engineer.
However, if you want to have a bigger impact on the built environment around you, consider one of the following civil engineering jobs as a way to make your mark.
Contracting Civil Engineer
If you enjoy being in control of a building site, then the role of a contracting civil engineer puts you right at the heart of the action. You'll be responsible for planning, resourcing and managing a site – the ideal role for a problem solver who can stick to a schedule.
Consulting or Design Engineer
This is the career for you if you love to kick-start projects and innovate. It's up to you to create CAD drawings and 3D models and to determine the environmental impact of a project and design the construction. This is an office-based role for those who enjoy taking a project from analysis to reality.
Building Control Surveyor
It's your role to inspect buildings before and after construction to evaluate whether they meet regulations and are safe. If you identify a problem, you'll also need to create a solution, and your work will often involve keeping historic buildings in good repair.
Nuclear Engineer
From applying nuclear science and technology for the benefit of society to decommissioning out-of-date facilities, there are plenty of niche interests when you opt to become a nuclear engineer. Above all, you'll ensure that nuclear power plants are safe to use.
Site Engineer
If you want to work on-site, then the role of site engineer will involve you in every step of the process, from the initial levelling of the site to handling quality control at the end of the build. As the pivotal person that the entire team turns to for technical guidance, you'll need excellent people skills.
Structural Engineer
Structural engineers use their expert knowledge of science and maths to design and stress-test new buildings using computer-generated models. You'll do anything from identifying structural weaknesses before a building starts construction to making plans to shore up old buildings.
Water Engineer
You'll work on everything from sewage works and reservoirs to environmental applications. You may also be responsible for asset management and flood damage prevention.
Environmental Engineer
Why not use the skills that help solve problems on a building site to solve problems with pollution or improve public health? Some jobs in civil engineering, like an environmental engineer, can have an impact anywhere, even on nature.
Alternative Options
Some other civil engineering jobs you might like to consider include engineering geologist, building service engineer or consultant on the environment or sustainability.