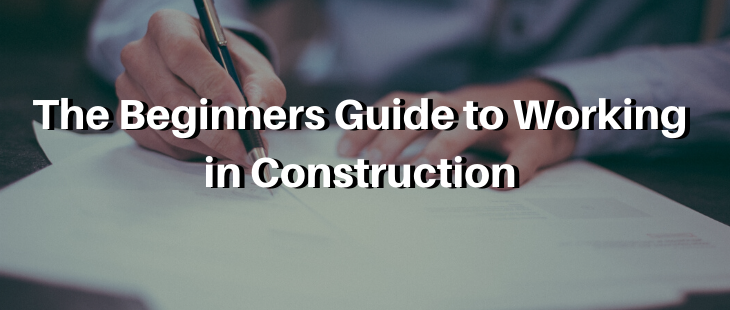 Posted by Fawkes and Reece
On 6th March 2018
If you are new to the construction industry and are interested in pursuing one of the many careers in construction, then this beginners guide to construction should help you get the best out of your first week on-site.
From tips and tricks for succeeding in your first week at work to an overview of how the industry works, there are a few things that you'll need to know beforehand to get you started. As an aspiring apprentice or a trainee or graduate, your employer will expect you to know how the industry works and how a project gets built.
How Construction Works
For the purposes of this beginners guide to construction, we'll assume that every construction job starts with a client who decides that they want to build something. They could be an individual or an organisation, but they set the timescale and the budget for construction, whether the project is a house or an office block. The client then hires architects and engineers, whose job is to help the client through the design phase of the build. If the project is cost-effective, then the tender process for construction will start and various contractors will bid for the job. Then and only then does the actual construction work start.
You could find yourself managing a site or even subcontracting your skills as a plumber or electrician. There are plenty of careers in construction to choose from, but first you need some on-site experience.
Fitting In: Your First Week On-Site
First things first – always turn up on time (early is better) and leave your phone at home. Make sure you're equipped with the necessary PPE, as construction sites are dangerous places where you can pay a high price for letting yourself get distracted. If you're given a hi-vis jacket and a hard hat, then you wear them at all times you're on-site and keep your focus on what you're doing at all times and pay attention to what's around you to get out of any sketchy situations. And invest in a pair of steel-toe-capped work boots and socks designed to be worn with them – your feet will thank you.
If it's hot, wear sunscreen because no one wants to be sidelined from their job after the first day because of bad sunburn. A loose long-sleeved cotton T-shirt is much better in the summer sun than a tank top. Also make sure you pack a lunch that's going to keep you fuelled throughout the day, because you're going to burn a lot of calories, and keep properly hydrated with water.
Remember that a lot of what you'll be doing is repetitious, and often your employers will want a job done in a certain way. Learn by looking and doing and never be afraid to ask questions. Most site managers would rather you were eager to learn and happy to find out about the job rather than pretending you know it all. Overstating your skills can even put you or your workmates in harm's way, so keep practising, observing and asking the right questions. As any beginners guide to construction will tell you, that's the way to grow your skills and get the best out of the first of many construction jobs in this exciting industry.