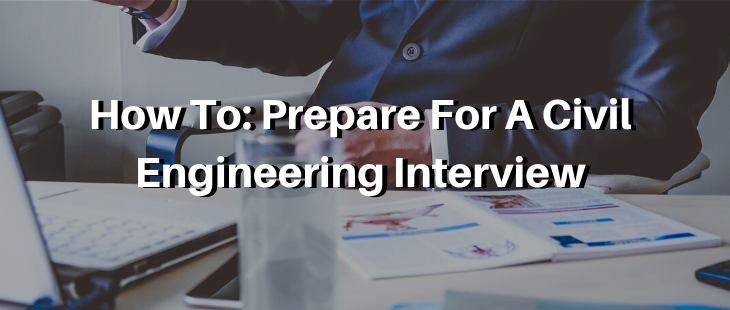 Posted by Fawkes and Reece
On 13th April 2018
So you've been called for an interview for one of those civil engineering jobs you were after. Your potential employer will want evidence that you have the right technological knowledge, engineering skills and personality to ensure that you will be the right fit for the company. But just how do you put across the right image and demonstrate your knowledge during an interview process that can be stressful to say the very least?
Well, the best way to ace an interview is to come prepared. It sounds obvious, but you're much more likely to get the job if you're able to confidently and accurately answer the important questions. That's why we've listed below some of those most frequently asked.
Engineering Questions
You'll have to be up to date with all the latest developments within the world of engineering and know the day-to-day challenges you might come across in a range of civil engineering jobs.
Examples:
• What will you encounter in the first year?
• What is the most important skill you have learned during your engineering career?
• On your list of priorities as a civil engineer, where do people and the environment rate?
Theory Questions
Now for the theory part. You'll be expected to know your stuff when it comes to civil engineering careers knowledge and to be able to convey it in a clear and concise manner.
Examples:
• How is drinking water filtered to remove impurities?
• What are the differences between various structural design methods?
Questions About You
What motivates you? Why are you there? How do you see your future? These are all things your potential employer will want to know. They need to know that you'll be staying in the position for the long term, that you're reliable and that you'll be a good fit for the team that is already in place. Make sure you thoroughly research the company so that you go into the interview prepared and showing that you want the job.
Examples:
• Why did you apply for the job?
• What makes you a good civil engineer?
• What made you decide to be a civil engineer?
• What is the most important characteristic any civil engineer should have?
• Describe your biggest failure and what did you learn from it?
Your Studies
If you're fresh out of university, then you'll be asked questions on your studies. Good marks are one thing, but you'll need to convey your passion if you're to win over your new employer. Make sure you communicate any experience you've had with technical projects outside of your studies, as it demonstrates a commitment and enthusiasm for your career.
Examples:
Did you take part in any technical projects other than those organised by your university?
What is your five-year plan?
Other Relevant Questions
Your potential employers will also want to know how good a fit you'll be for one of those civil engineering jobs you've applied for and whether you'll adapt to the company culture. Are you a sociable person and do you accept constructive criticism?
Examples:
• How do you feel when your ideas are not used?
• How well do you work in a team?
• How do you handle conflict?
• Describe the perfect boss.