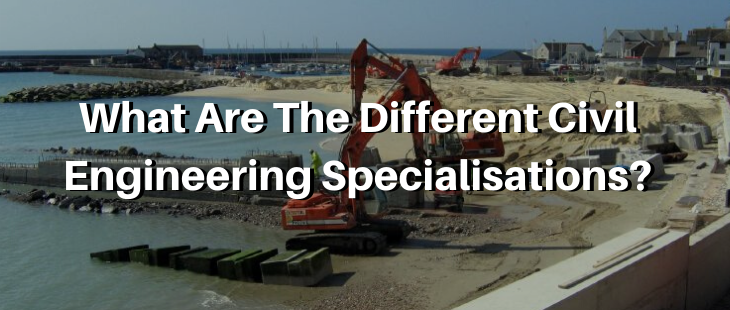 Posted by Fawkes and Reece
On 21st July 2017
Engineers work both indoors and outdoors on a succession of varied projects with different colleagues and in many different locations. At the end of each job comes enormous satisfaction from knowing you played a part in shaping the world around us. All types of civil engineering jobs offer a wonderfully varied occupation with many opportunities to move between them or to move into senior positions in engineering and construction companies.
Helping to Shape the World
Engineers are often involved at the planning stage, surveying the environment and examining the geology (geotechnical), advising the architects, navigating planning regulations, scheduling contractors and estimating the quantities of materials that need to be moved or used in the build. Once the project is under way, their central role is to set out all the locations, depths and heights of construction materials, to monitor and report on progress or identify and solve any problems that arise.
Specialisation
Although there are opportunities to work on a variety of projects, there is plenty of scope for civil engineering specialisations. You can specialise by role (for example, management, site agent or project engineer) or by sector: environmental, road or rail transport, housing, coastal and river management, energy resource development, tunnel or bridge building. Some engineers also specialise by construction methodologies, such as in tension fabric structures.
Sectors
Environmental civil engineers are focused on reconciling society's needs for raw materials, energy, roads and water supplies with our natural environment, so they are involved in working out sustainable ways of developing and landscaping.
Specialising in water management or coastal defences can overlap with the above, but focuses on things like pipelines, levees, drainage, sewer systems, flood defences, dams and reservoirs.
Geotechnical engineers train to understand geology and soil behaviour under loading forces, land movement or water interactions. Surveying potential development sites before any construction ever begins is a geotechnical role.
Transportation engineers work over much larger distances than most other engineers, helping to determine the routes of rail and road connections, the appropriate underpinning and layering and the smooth interconnection of sections and supporting infrastructures.
The term "structural engineer" refers to structures like bridges and skyscrapers, in which understanding of the loading or twisting forces in assembled components under the weight of the structure or the force of weather conditions is critical.
Roles
The roles that are most materially "hands-on" are those of setting out engineers, land surveyors and general site engineers. Many progress to senior and regional positions but remain in close touch with these basic building requirements.
Other roles involve engineers who are involved at earlier stages before builds can begin. These positions include estimators and bid managers, design co-ordinators, document controllers and health safety and environment managers.
Many engineers move into the general management of building and engineering projects and become site agents, operations managers, foremen and supervisors or ultimately project directors.
Engineers are also required to support projects in financial ways. These kinds of roles include those of quantity surveyors, claims surveyors, procurement and supply chain managers.
Use Specialised Headhunters to Fill Specialised Roles
Whichever civil engineering specialties you are seeking to fill, Alltek Recruitment's expertise and specialisation in these areas will allow us to swiftly identify ideal candidates for urgent vacancies and ideal opportunities for eager candidates at all levels.