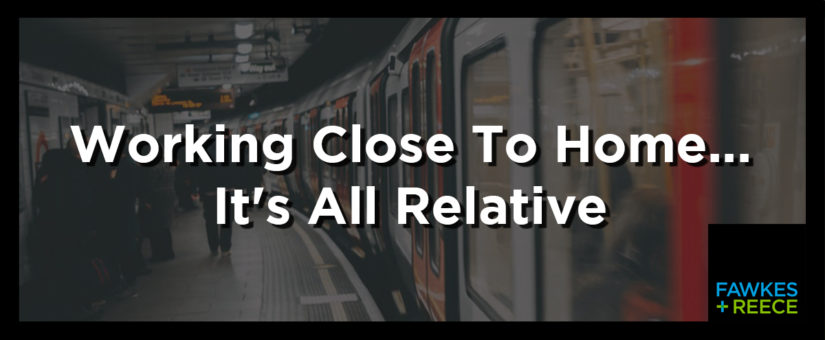 Posted by Fawkes and Reece
On 26th July 2017
The desire to work close to home is something our job seekers often talk about but what does it actually mean? Can it really be achieved? And does it involve making compromises?
We surveyed job seekers on this topic and 60% viewed working close to home as a commute of under 30 minutes from their house, 25% said it was about how easy it was to get to and from work and 20% said they would consider a job if the commute was under an hour. A small minority said it was about being within walking or biking distance or a 5 minute drive away.
If we looked at individuals who were already working close to home and now looking to move company, they were considering other aspects which were more important in their careers. It was noted that working closer to home had potentially compromised their careers and held them back in terms of progression, development and financial rewards. It was interesting to hear from one individual who said they were working closer to home but found that they were getting home later as there was no specific train to aim for and no traffic to avoid, so they were actually working longer hours.
The conclusion we came to was that many who had the burning desire to work closer to home had decided based on the perceived lifestyle, or in reaction to their personal circumstances at a point in time. Few had considered the long-term career impact, working hours at a new company or what it meant for their professional development.
For those who lived in more remote areas, workers were happy with a commute of up to 1.5 hours door-to-door. Some respondents had decided to move their family further away from work to upsize their family home or find a good school; the longer commute was something they were prepared to do in order to achieve this.
It seems complicated to identify convincing reasons to work closer to home, to get a clear definition of what it really means and how it aligns to longer term career objectives. Perhaps for many, working closer to home will have to simply be the work they do at the end of their garden at the weekends!