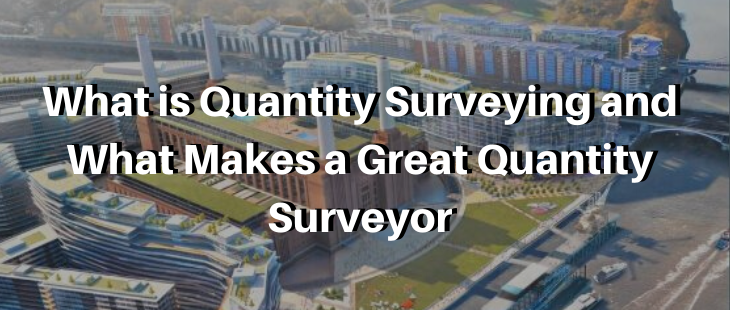 Posted by Fawkes and Reece
On 17th August 2017
The Quantity Surveyor, or QS as they are known, is a key driver of project success in the construction industry. Projects are by their nature one-off activities, and the QS has to be able to give management an accurate idea of how much the materials will cost, how long the project tasks will take, what the procurement and commercial implications may be, where the risks are and a host of other information. A good QS can make a difficult project successful and help turn round a project that has run into the ground.
Able to See the Whole Picture
The QS has to be able to take the whole project life cycle into account, from design and start-up to completion and handover. Similarly, they need to understand the roles of everyone who will be working on the project in order to estimate how much they are going to cost and what resources will be required to deliver the finished job. And while they're at it, they need insight into their role in their current project – all projects differ, and it's good to get roles and responsibilities sorted out right at the beginning.
Logical, Objective and Conscientious
Quantity Surveyors have to be logical and objective, because they often find themselves operating in a context where there are strong supporters of one option or another who want the QS to back them up. But the surveyor is simply there to provide the facts, with evidence for the estimates they are making. They can't disguise the true cost of a piece of work, however much some people might wish it, because in the end their credibility is on the line. What they can do is to introduce fact-based discussions of the various options with reliable estimates and procurement information.
Confident Communicator Who Gets Listened To
The QS is often in the spotlight in project meetings. This is because in the early stages of a project they are providing the basis for key decisions as to the project scope, length, cost and feasibility. Later, their measurement of costs against estimates and of costs-to-finish are key management reports that often find their way to the most senior levels of the organisation.
Confidence in meetings increases with experience, but it really helps if the surveyor is a good communicator and can explain why they've arrived at certain estimates or conclusions. Project managers ignore the QS at their peril, and they are usually listened to carefully. They just need to be able to explain things in a way a non-specialist can understand.
Results-Driven
As with all project professionals, the QS needs to be someone who likes to see results – the estimate accepted, the project through its gateway, the contract signed, the procurement orders placed, start on site achieved. This goes right through the project to final snagging, handover and retention agreements.
For the right person, these are immensely satisfying jobs – being a key part of a team dedicated to achieving something of value is a great feeling. Construction and civil engineering projects can be hectic, hard work and high pressure, but the sense of engagement is huge, and being part of a professional team brings its own rewards.